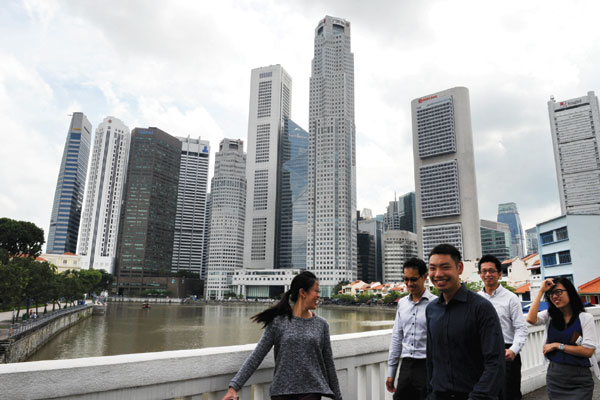 People walk across a bridge overlooking Singapore's financial district. Singapore is expected to overtake Switzerland in the coming years as the world's wealth capital center, as middle-class consumption continues to grow across Asia. AFP
By the end of this decade Singapore is expected to dislodge Switzerland as the wealth management capital of the world.
And it is not hard to see why.
Asia's new rich are growing at a staggering rate, spurred on by the economic rise of China and its knock-on effect throughout the region creating a new, rich middle class.
Asians with at least $1 million in disposable income are expected to see their combined wealth climb to $15.9 trillion by 2015 from $12 trillion in 2012, according to the Asia-Pacific Wealth Report 2013 by Royal Bank of Canada and French multinational Capgemini.
R
eu
ters recently quoted Brookings Institution scholar Homi Kharas as saying the "old world" middle class will, in time, shrink from 50 percent of the world's total to around 22 percent.
Kharas went on to say rapid growth in China, India, Indonesia, Vietnam, Thailand and Malaysia will cause Asia's share of the new middle class to more than double from its current 30 percent.
By 2030, Asia will host 64 percent of the global middle class and account for over 40 percent of global middle-class consumption.
Kishore Mahbubani, dean of the Lee Kuan Yew School of Public Policy in Singapore, says in a blog post, "The size of (Asia's middle class) currently stands at 500 million and will mushroom to 1.75 billion by 2020 - more than a threefold increase in just seven years."
"The world has never seen anything like this before; it's probably one of the biggest seismic shifts in history," Mahbubani added.
Boston Consulting Group says that while the "old money" of North America and Europe are still the wealthiest regions, accounting for $43.3 trillion and $35.8 trillion of private wealth, the Asia-Pacific region (excluding Japan) is fast catching up at $28 trillion in 2012 - up nearly 14 percent on the previous year. Data for 2013 is not due out until later this year.
Consultancy firm PricewaterhouseCoopers predicts that Singapore could dislodge Switzerland as early as 2015 as the world's wealth capital center.