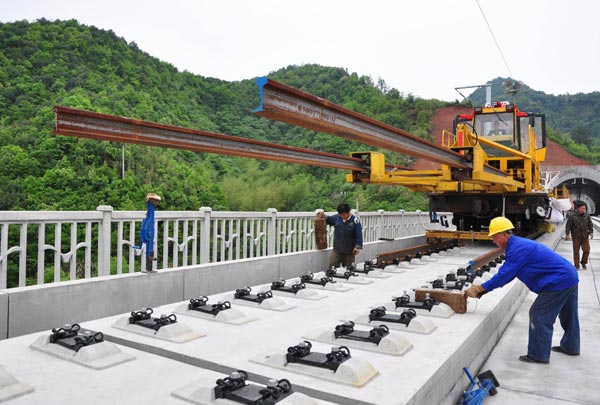 Workers lay tracks for a high-speed rail in Wuyuan county in Jiangxi province. A State Information Center report on Monday suggested speeding up investment in urban renovation and rail projects in central and western China. Hu Dunhuang / for China Daily
Solid conditions provide time and resources to deal with structural reforms, shadow banking
The International Monetary Fund forecast China's GDP will grow 7.5 percent this year and 7.3 in 2015, and the multilateral organization said it's time for the nation to focus on quality of growth.
"It's important to rein in credit growth as well as shadow banking while China's growth rate still remains well above 7 percent," said Chang-yong Rhee, Asia and Pacific department director. "We think this slowdown leads to a more sustainable path."
At a briefing by the organization on Monday where it released its regional outlook, Rhee pointed out that China is facing challenges as its leverage increased significantly after a stimulus package of 4 trillion yuan ($640 billion) was launched following the 2008 global financial crisis.
Many of those debts were channeled through the shadow banking system.
"In the short term, if credit growth and leverage mounts, it may cause problems that are difficult to handle in the future, especially when combined with a slowdown in the real estate sector."
"However, we still believe the Chinese economy has leeway to address this debt problem," Rhee said. "As long there are large fiscal resources, the government - even on the level of local authorities, which have less funds - can step in when something bad happens."
He emphasized that during meetings with high-level Chinese officials in Beijing last month, the IMF found leaders of the country understand the issue very well.