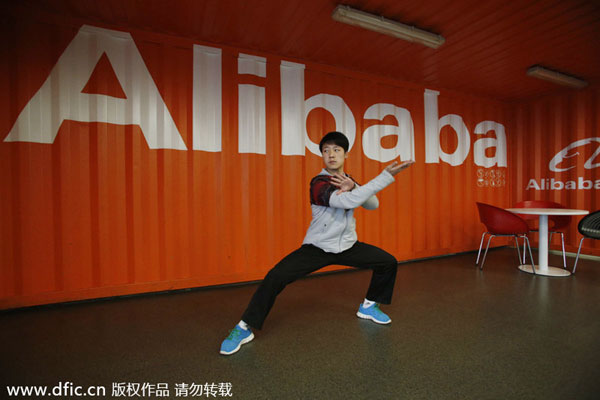 A staff performs shadow boxing during an open day at theAlibaba Groupin Hangzhou in east China's Zhejiang province, March 26, 2013. [Photo/dfic.cn] 
E-commerce giant Alibaba Group Holding Ltd, along with private equity firm Yunfeng Capital, agreed to purchase a minority stake in online video company Youku Tudou Inc for $1.22 billion, the companies said on Monday.
The move marked the first step by the world's largest online shopping platform into the online video market, where rivals such as Baidu Inc and Tencent Holdings Ltd have built a strong lead.
Alibaba will indirectly hold about 16.5 percent of Youku Tudou's shares, and Yunfeng Capital will hold 2 percent, according to a statement released by the video company.
The transaction is expected to close in the "near future", it said. Alibaba Chief Executive Officer Jonathan Lu will join Youku Tudou's board of directors upon completion of the transaction.
"This is an important strategic initiative that will further extend the Alibaba ecosystem and bring new products and services to Alibaba's customers," said Jack Ma, executive chairman of Alibaba.
Alibaba, based in Hangzhou, Zhejiang province, said the deal will boost innovation and support Alibaba's strategy in the digital entertainment and video market.
Victor Koo, chairman and chief executive officer of Youku Tudou, said he hoped that Alibaba's investment will help the company retain its place as the country's largest online video platform in terms of market share.
"The deal will further differentiate our services and user experience. It will help us build an immersive cultural entertainment platform that integrates online and offline entertainment," said Koo.
Alibaba reports strong growth before IPO
Alibaba filing for US IPO next week:sources
Alibaba picks up digital content stake