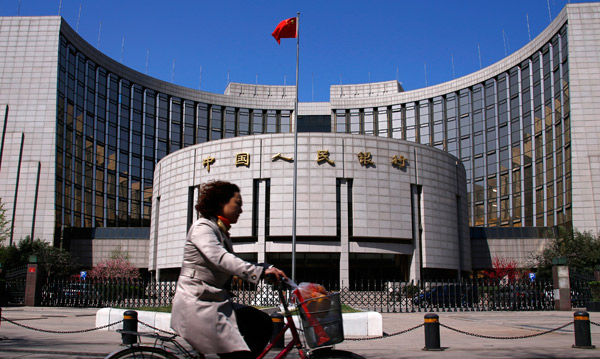 A woman rides past the headquarters of the People's Bank of China, the central bank, in Beijing. [Photo/ Agencies]
'Innovative management' ideas under evaluation to boost financial openness
The People's Bank of China and other government departments will strengthen communication and collaboration with Hong Kong and Taiwan in a bid to expand financial openness and cooperation, according to an official of the central bank.
The PBOC will continue to promote the opening-up of the Chinese mainland's financial sector to Hong Kong and Taiwan. It is conducting research into introducing innovative management models such as pre-establishment national treatment and "negative lists", while stepping up cooperation with the two regions, said Pan Gongsheng, deputy governor of the PBOC.
Pan commented during the Fourth Economic and Financial Forum in Beijing on Friday.
He said that the PBOC will further "smoothen" the two-way flow of the yuan and continue to help domestic companies and financial institutions issue yuan-denominated bonds in Hong Kong.
The PBOC will also support financial institutions in Hong Kong and Taiwan to invest in the mainland's interbank bond market and support the issue of yuan-denominated bonds.
Among the 147 financial institutions from other markets that have been approved to enter the mainland's interbank bond market, 84 came from Hong Kong and 11 from Taiwan.
The financial sector of the mainland has become much more open to Hong Kong and Taiwan, with multiple incentives launched by the mainland such as relaxing admission standards for financial institutions in the two regions, lowering the conditions under which they can become shareholders and increasing shareholders' permitted percentage of ownership.
With cooperation among financial markets in the mainland, Taiwan and Hong Kong, there has been an expansion of corporate and financial institutions' investment and financing channels, he said.
The mainland has supported financial institutions in Hong Kong and Taiwan to invest in its bond market through channels such as the qualified foreign institutional investor and renminbi qualified foreign institutional investor programs.
China launched the RQFII program in Hong Kong in 2011, starting with a quota of 20 billion yuan ($3.2 billion), and gradually increased the quota to 270 billion yuan. Taiwan-based institutions received an investment quota of up to 100 billion yuan under the RQFII program.
In addition to these efforts, PBOC Governor Zhou Xiaochuan announced earlier this month that the mainland will launch a trading mechanism linking the Shanghai and Hong Kong stock exchanges at "an appropriate time" after technical preparations.
"It's a major breakthrough that aims to promote two-way opening-up of the capital market on the mainland and Hong Kong," Pan, the deputy governor, said.
Appetite growing for dim sum bonds, say experts
China CITIC Bank to issue dim sum bonds