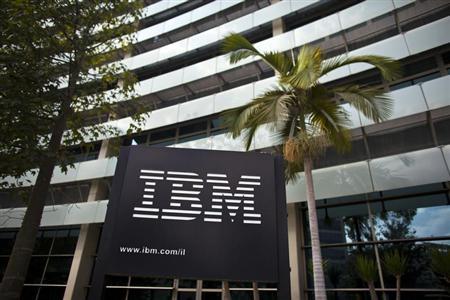 The IBM logo is seen outside the company's offices in Petah Tikva, near Tel Aviv,the second most populous city in Israel on Oct 24, 2011.[Photo /Agencies] 
Manufacturers to get access to IBM technology for producing chips
Six Chinese companies joined on Friday the OpenPOWER consortium - a development alliance based around International Business Machines Corp's microprocessor architecture - to build designed-in-China processors.
The manufacturers will get access to IBM's latest chip-making technology and produce their own first chips next year. IBM is seeking to boost profit in China, the world's top technology spender. The company unveiled the OpenPOWER initiative, in which Google Inc is a founding member, in August.
The Chinese companies include telecom equipment maker ZTE Corp and server producer Inspur Group Co Ltd. They will focus on building self-developed chips to meet growing demand and security requirements, Bradley McCredie, OpenPOWER president and vice-president of IBM, said.
"We've been looking for the next-generation virtualization and server technologies," Zhu Jinyun, senior vice-president of the Shenzhen, Guangdong-based ZTE. IBM's "technology will help us to build stronger server and cloud computing businesses."
Other Chinese partners are also looking to design and produce processors under their own patents.
IBM created its Power architecture as an open-source technology to bring more chip makers under its wing. The US company aims to compete with the popular ARM and x86 architectures in both mobile and high-performance chip-making sectors.
Chinese government regulations, coming amid mounting security concerns, are very important and self-development from local players is extremely necessary, Ashok Pandey, vice-president of graphic processor maker Nvidia, said.
Roughly one quarter of the consortium's current members come from China and that is set to rise because of "increasing enthusiasm," McCredie said.
International Data Corp estimates the market value for China's smart-connected devices will grow 17 percent this year, boosted by smartphone and tablet sales. Enthusiasm for cloud technology - the delivery of on-demand computing resources, everything from applications to data centers, over the Internet on a pay-for-use basis - may also spur sales for processors and servers, it said.
IBM is gradually withdrawing from making computer hardware. Before quitting altogether it is building its software and consulting businesses. This month the company reported first-quarter earnings that slightly missed investors' expectations. Revenues generated by IBM's hardware segment declined 26 percent during the period.
IBM sold in January its x86 server unit to Chinese computer maker Lenovo Group Ltd for $2.3 billion. Some people following the company expect more divestments of its hardware business.
IBM is eager to expand in China's enterprise software market. IBM's profitable software group has said it intends to take on competitors in China such as Oracle Corp and SAP AG, which have been aggressively signing new contracts.
"Casual use of the technology market will have high triple-digit growth in the coming years," Ernie Hu, head of IBM's software business in China, said. "That's the area we will focus on this year."
Hu said enterprise information technology offers a good opportunity for IBM because it depends heavily on cloud computing, data analytics, online data sharing and distribution platforms. "We value the local innovation ecosystem and are willing to join hands with our clients to develop new offerings to meet end-user demands." he said.
IBM declined to give any of its figures for the Chinese market. Software selling was the company's major revenue source over the past quarter. The business contributed $5.7 billion in revenue, up 2 percent year-on-year, according to a company report.
IBM's China-driven slump sparks executive shakeup
IBM Q3 revenue misses Street on China woes
IBM builds smart tech center in S China