Perception hinders attempts to take a larger role abroad, report says
Chinese companies are consistently less trusted than companies headquartered in the developed nations, a major hurdle for the growing number of Chinese enterprises looking to "go global", an international survey has found.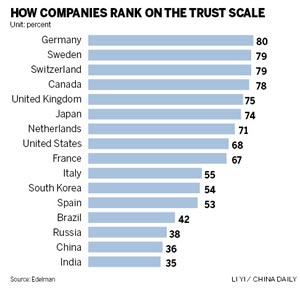 Of the 33,000 respondents polled online in 27 countries, only 36 percent regarded companies headquartered in China as "trustworthy", according to Edelman, a leading public relations firm.
China was among countries that garnered the lowest trust level worldwide, along with Russia (38 percent), India (35 percent) and Mexico (34 percent).
This year's survey result showed little improvement in Chinese companies' worldwide trust levels. The same study a year ago showed 19 percent of respondents in developed countries regarded companies headquartered in China as "trustworthy", whereas in other emerging markets 58 percent of respondents trusted China's businesses.
This was in stark contrast to perceptions of companies from Germany, Sweden and Switzerland, which more than 70 percent found trustworthy.
"Companies headquartered in BRIC (Brazil, Russia, India and China) nations continue to suffer a trust discount, not just compared with Western-based companies, but also among respondents in Western markets," the report said, indicating China was not the only developing country that suffered.
The low trust toward Chinese companies has significant implications. Analysts said it means it will be harder for Chinese companies to conduct deals, and any that are carried out will cost more. The study found that 63 percent of respondents in developed markets did not welcome Chinese companies buying a company in their countries. Companies headquartered in other emerging markets such as India and Brazil faced a similar situation.
However, there is a big gap between the perception of homegrown businesses and the global view. The survey found that while only 36 percent of world respondents have faith in Chinese companies, 76 percent of Chinese respondents trust their local companies. The same situation also applied to other emerging markets.
Don't miss:
Chinese enterprises to build brands in consumer electronics
Successful brands do their homework, retail investor says
Chinese manufacturers grapple with brand-building
Growth of brand value in private sector beats SOEs