Meeting delivers big deals
By Zhao Shengnan and Wu Jiao in Beijing and Li Xiang in Paris | China Daily | Updated: 2013-04-26 01:36




Xi, Hollande vow to push ties and build multipolar world order
Beijing and Paris signed 18 deals on Thursday, including deals for 60 Airbus planes and a nuclear project, as President Xi Jinping hosted his first head of state from a major Western country, French President Francois Hollande.
The trip by Hollande, described by many in the French media as "a sales tour" since he brought along a planeload of businessmen, also saw the two countries agree to establish an economic and financial high-level dialogue to further promote economic cooperation.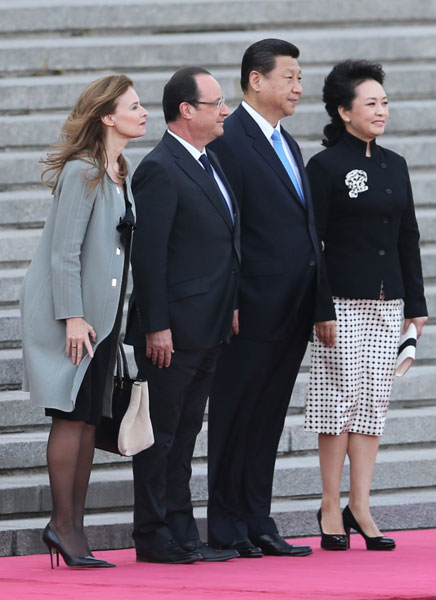 President Xi Jinping and his wife Peng Liyuan welcome French President Francois Hollande and partner Valerie Trierweiler in Beijing on Thursday. [Xu Jingxing / China Daily]
Analysts said the visit will help the countries renew dialogue under new leaderships and enhance China-EU ties.
A significant portion of the 60 planes will be manufactured at an Airbus factory in Tianjin, an industry source told AFP on condition of anonymity.
The countries signed 17 other agreements ­on tourism, agricultural products, nuclear power and urbanization.
French nuclear giant Areva and Chinese energy group China National Nuclear Corporation signed letters of intent on the construction of a nuclear-waste treatment plant.
"I look forward to the future of our global strategic partnership and to working with you to make our relationship closer, healthier and more vibrant," Xi said at a news conference with Hollande.