Foxconn Group, Apple Inc's main supplier and China's leading electronics manufacturer, officially denied a rumor that it would move its headquarters to China's inland city Chengdu, Caijing.com reported.
The company's headquarters and first business park in China's mainland is in Shenzhen, where more than 400,000 people are employed. It remains the major strategic base for the company, said Liu Kun, Foxconn's spokesperson.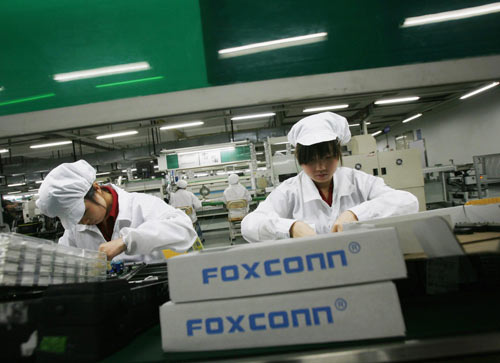 Employees work inside a Foxconn factory in the township of Longhua in the southern Guangdong province in this May 26, 2010 file photo. [Photo/Agencies]
Zhengzhou Park and Chengdu Park were constructed to meet the needs of the Foxconn industry supply chain. They have different functions, Liu added.
The clarification came in reply to a post on Sina Weibo, the Chinese version of Twitter, saying that the company had decided to move its headquarters to Chengdu in Sichuan province instead of another inland city Zhengzhou in Henan province.
"Foxconn chose Shenzhen as its headquarters many years ago, in large part because the city has advantages in terms of clearance incentives and transportation convenience, which the Chengdu and Zhengzhou parks can't match," said Lu Moudu, a consulting partner at Adfaith management consulting firm.
Foxconn said that even though the company is gradually shifting its manufacturing industry focus inland, the intensity of research and development, services, finance and other modules in Shenzhen has been increasing.
Any relocation of the company's headquarters would take six months or even more than a year and, more importantly, it would necessitate the notification of Shenzhen government departments.
Shenzhen's local government said no official reports about a planned relocation of Foxconn's headquarters to Chengdu had been received.