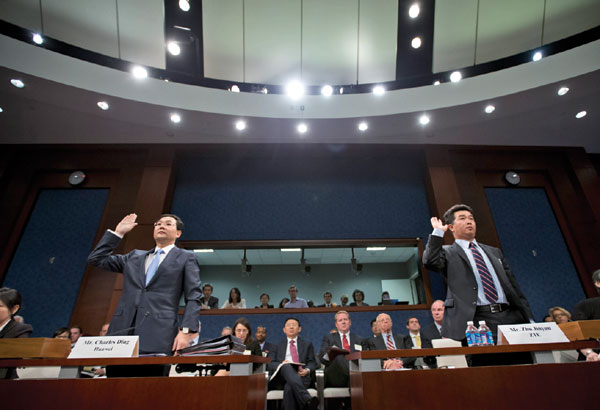 Charles Ding, Huawei Technologies Ltd senior vice-president for the US (left), and Zhu Jinyun, ZTE Corporation senior vice-president for North America and Europe, are sworn in on Capitol Hill in Washington. [Photo/Agencies]
Chinese technology giants Huawei Technologies Co and ZTE Corp denied allegations that their companies pose a security threat or are under the influence of China's government during a three-hour long Congressional hearing before the US House Intelligence Committee on Thursday.
It was the first time that Chinese business executives testified before a US Congressional panel. The Committee is wrapping up a year-long probe into whether these Chinese companies pose a risk to US national security.
"Huawei and ZTE provide a wealth of opportunities for Chinese intelligence agencies to insert malicious hardware or software implants into critical telecommunications components and systems," Committee chairman Mike Rogers said in his opening statement, citing unnamed sources who said both companies have anomalies in their equipment which allow access by unauthorized users.
Both Charles Ding, Huawei's corporate senior vice-president and Zhu Jinyun, ZTE's senior vice-president for North America and Europe, denied those allegations.
The committee also questioned the two executives on their companies' ties with the Chinese government. "We are concerned about the allegations that products from Huawei and ZTE are being subsidized by the Chinese government so these companies can offer bargain basement prices to unsuspecting consumers," said the Committee's ranking Democrat, CA "Dutch" Ruppersberger of Maryland.
Both company executives denied that their companies receive special treatment from the Chinese government or pose a security threat.
Rogers asked Ding and Zhu to furnish a full list of the members - both current and past - of the Communist Party Committee in their companies.
Zhu agreed to furnish the committee the company's financial documents later.
The committee launched a security probe into the two companies in November. In May, a Congressional delegation including some of the Committee members went to China where they met with Ren Zhengfei, Huawei's chairman of the board, and the top management of ZTE.
Both headquartered in Shenzhen, Huawei is the second-largest telecommunications equipment manufacturer in the world and ZTE is the world's fifth-biggest.
According to Ding, 70 percent of Huawei's $32 billion in revenue is generated from the company's overseas markets.
While ZTE appreciates its position in China's expanding telecom market, ZTE is focused on its success as a multinational company, Zhu said in his testimony.
"ZTE is not an SOE (state-owned enterprises) or government controlled. Indeed, ZTE is China's most independent, transparent, globally focused, publicly traded telecom company," said Zhu, emphasizing the company has about 140,000 global shareholders.
ZTE established its presence in the US about 15 years ago. It has 14 offices now, employing more than 400 people.
Zhu said the scale of ZTE's US operation is relatively small and the company is not making much profit in the US market so far. Partly, he said, it is because of the US government policy in national security that has made it hard for ZTE to expand in the US.
Yitai Hu, a partner with Alston and Bird LLP and an intellectual property litigator, said the stated purpose and name of this hearing unfortunately has already cast a shadow over ZTE and Huawei.
Contact the writers at tanyingzi@chinadailyusa.com and yuweizhang@chinadailyusa.com