China 'incredibly innovative' in many areas: Apple CEO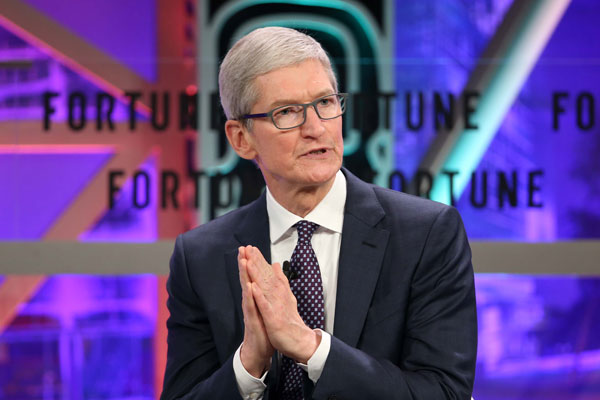 Tim Cook, CEO of Apple Inc.[Photo by Feng Yongbin/China Daily]
Tim Cook, CEO of Apple Inc, the world's most valuable company, said on Wednesday that he was overwhelmed by China's huge changes in the past 25 years, as the country makes strides in nurturing innovation and upgrading manufacturing capacity.
"China has an intersection of craftsmanship and computer science, (which is) rarely found in other places. The country is a big market, but for us the No 1 attraction is the quality of people," Cook said at the ongoing 2017 Fortune Global Forum, which is being held in Guangzhou, capital of South China's Guangdong province.
The comments came shortly after Apple said earlier this week that 1.8 million Chinese software developers are using its platform. They have earned a total 112 billion yuan ($16.93 billion), representing roughly a quarter of Apple's total global App Store earnings.
"China is already incredibly innovative in so many areas. There are apps and business models that can only be created here," Cook said.
The senior executive listed examples, such as Chinese bike-sharing companies, which take their homegrown mobile ideas to the countries around the world, and local developers who have integrated everything from the review of a restaurant and ordering to mobile payment to a smartphone app.
Cook's latest visit to China also came after Apple managed to post strong revenue growth in the world's largest smartphone arena in the third quarter, ending its declining streak of six consecutive quarters in the country.
The Cupertino, California-based company has been scrambling to expand its presence in the country, where most of its iconic iPhone devices are made. As part of its efforts to address mounting competition from local players, such as Huawei Technologies Co Ltd, Apple has announced plans to build several research centers in China. The total investments into these centers would be as much as 3.5 billion yuan ($507 million).
Cook said China has made significant progress in promoting advanced manufacturing. Earlier this week, he visited Lusxhare – ICT, a company in Kunshan, East China's Jiangsu province, which produces Apple's wireless headphone AirPods.
"Their state-of-the-art facility produces AirPods with phenomenal precision and care," Cook said in a post on Sina Weibo, a major microblog platform in China.
In July, Apple also said it would invest $1 billion to build data centers in Southwest China's Guizhou province, so as to meet local consumers' growing demand for better cloud services.