Leshi Holding repays $15m debt to suppliers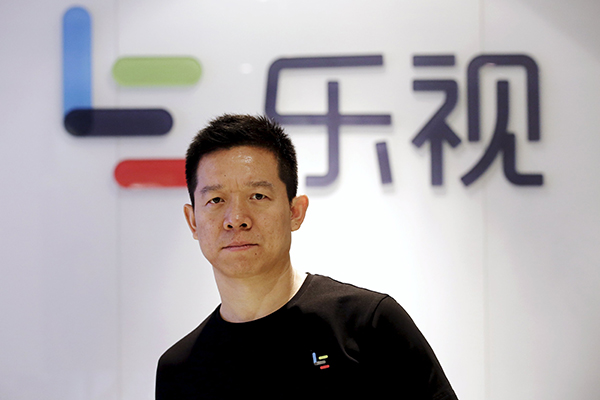 Jia Yueting, founder of LeEco, poses for a photo at LeEco headquarters in Beijing, April 22, 2016. [Photo/Agencies]
Leshi Holding (Beijing) Co, the company controlled by LeEco founder Jia Yueting, has repaid debt of more than 100 million yuan ($15 million) to its suppliers, according to a report by Securities Daily.
"Leshi Holding signed repayment deals with 28 suppliers last week and will do it with another 27 suppliers this week," a Leshi Holding insider told Securities Daily on Tuesday.
Most of the suppliers that have reached settlements with Leshi Holding are smartphone store contractors of LeMobile's LePhone, the report said.
Leshi Holding said the company received a thank-you note from suppliers for paying back their money and those who were stationed at LeEco headquarters in Beijing to collect their debts for months have disbursed, tech.qq.com reported.
However, 20 LeMobile suppliers told media they have yet to receive any repayments from Jia.
"There is a large part of Leshi's arrearage that remains to be resolved. For the rest of repayment plans, we are still trying to raise funds to address them one by one. We hope suppliers can give us a little more time," a Leshi Holding insider said, Securities Daily reported.
According to sources, Jia has been frequently shuttling between Hong Kong and the United States and has made progress in raising funding, the report said.
Last Friday, a photo of Jia having lunch at a restaurant in Hong Kong was posted on Twitter-like Weibo by a person who ran into him, finance.ifeng.com reported.
A Leshi Holding official told finance.ifeng.com Jia was in Hong Kong for two major reasons.
"One is to wrestle with the debt issue of Leshi's unlisted companies and further promote the implementation plan, another is for Leshi's automobile business, especially meeting and negotiating with investors for Faraday Future's financing."
Faraday Future, an electric vehicle startup based in the US that has developed a strategic cooperative partnership with Leshi since last January, might be the place where Jia's ambition is settled currently.
In August, he announced on his personal social media accounts that his team was working to deliver high-quality production car and Faraday Future will build a new plant in Hanford in California.
Securities Daily said Jia and his Leshi Holding have repaid a debt of around 20 billion yuan since the end of last year, of which 16 billion yuan was owed to financial institutions and the rest to suppliers.
As of this July, Leshi Holding still owed a loan of 13.85 billion yuan to financial institution, which include three banks, trust funds and several small and medium-sized financial institutions, Securities Daily reported.
It means Leshi Holding has not paid any of its debt until this 100 million yuan repayment to its suppliers since its assets was frozen by China Merchants Bank earlier July, the report said.
After China Merchants Bank applied for a property preservation order to block the 1.24 billion yuan of assets owned by Jia, his wife and three affiliated companies in June, Shanghai High People's Court froze 15.9 billion yuan worth of Jia's stocks in Leshi Internet Information and Technology Corp due to unpaid interest on debt.
In July, Jia resigned from all his positions at Leshi but still owns around 26.27 percent shares of the listed company as its largest shareholder, thepaper.cn reported.
Late on Tuesday, Leshi released an statement to Shenzhen Stock Exchange, saying its founder Jia did not fulfill his commitment of lending the capital he got by selling his stakes in Leshi to the listed company.
In addition, on September 7, Leshi Holding and LeMobile were listed as the dishonest debtors on China's highest level credit default blacklist.