Airbus opens first overseas wide-body jet plant in China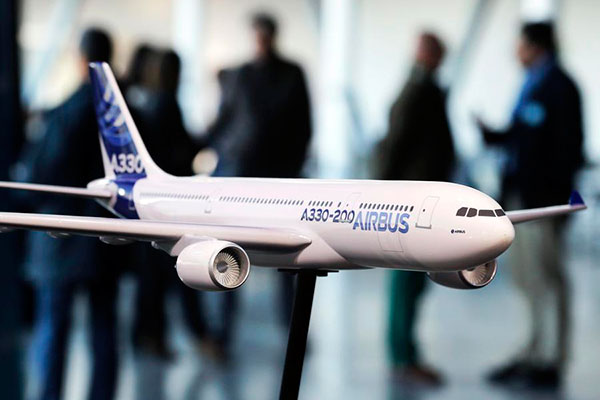 People speak together near a scale model of an Airbus A330-200 during the Airbus annual news conference in Colomiers, near Toulouse January 13, 2015.[Photo/Agencies]
Europe's largest aerospace company Airbus SE opens its first overseas completion and delivery center for wide-body aircraft in Tianjin, North China, on Wednesday, Bloomberg News reports.
The center inaugurated by Chief Operating Officer Fabrice Bregier is designed to give finishing touches such as painting and cabin installation to A330 aircraft and aims to roll out two planes a month in a year, according to the report.
Tianjin,a city close to Beijing, is already home to assembly plant that produces single-aisle A319s and A320s.
This is a strategic move to position the company to chase billions of dollars in potential orders from an aviation market in China that's set to become the world's biggest within a decade, the report said.
Airbus China CEO Chen Juming said Chinese aviation market is expected to grow rapidly and Airbus is committed to have long-term stable cooperation with China.
"We are fully confident in the Chinese market, which is set to be the largest civil aviation market in the world," Chen said at the 17the aviation expo in Beijing.
The company predicts that the aviation sector in China and other emerging regions will double the pace of mature markets of North America and Western Europe in the next decades.
"Chinese travelers on average took only 0.4 flights in 2016, a quarter of the United States. But China has a population more than four times the latter, providing enormous room for growth," Chen said.
The growth rate of international aviation market is close to 30 percent in the past five years, and over 50 million international trips were made by Chinese in 2016, up 22.7 percent from the previous year.
Chen said the growth rate is expected to continue for a long time in the future and the Belt and Road Initiative will create new chances for the sector.
Airbus has established five joint ventures in China, covering training and support, engineering, final assembly and composite manufacturing. The company has expanded cooperation with Chinese firms in areas including aeronautic manufacturing, air traffic management, and research and technology, Xinhua reported.
Airbus has reached new industrial cooperation worth $500 million in 2015 and the figure is expected to hit $1 billion by 2010, according to Xinhua.
China introduced the first Airbus aircraft in 1985 and by the end of Aug 31, 2017, nearly 1,500 are being operated by Chinese airlines, accounting for around half of the total fleet of aircraft over 100 seats in the country.