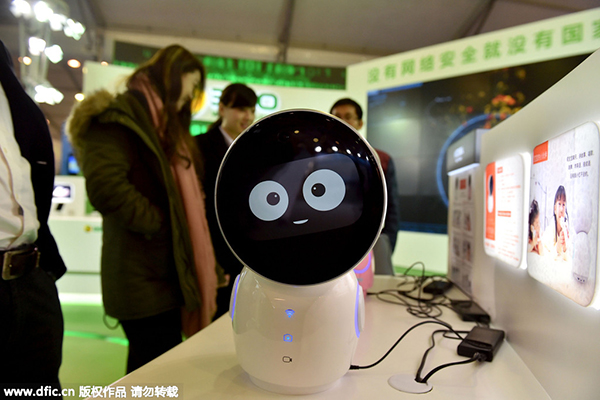 A robot on display at the Light of the Internet Expo in Wuzhen, Zhejiang province, Dec 15, 2015. [Photo/IC]
The economic opening up, technological innovation and rule of law are key drivers of Chinese Internet development, Lu Wei, director of the Cyberspace Administration of China, said at the opening ceremony of an industry expo.
"China is on track to transform itself from a big Internet nation to one of the strongest," Lu said, adding the country's 670 million Internet users — representing more than one fifth of the world's total — provided an unprecedented market for growth.
China is hosting "Light of Internet Expo" in Wuzhen, Zhejiang province on Tuesday ahead of an International Internet conference which President Xi Jinxing is set to attend.
The expo showcases achievements of the Chinese Internet industry since the country was first connected to the World Wide Web about two decades ago.
Local Internet giants, such as Baidu Inc and Tencent Holdings Ltd are giving a peek of their latest technologies such as self-driving cars and glasses showing three-dimensional images.
Baidu said its CEO, Robin Li, will introduce the self-driving and cloud-based translation technologies to President Xi on Wednesday.