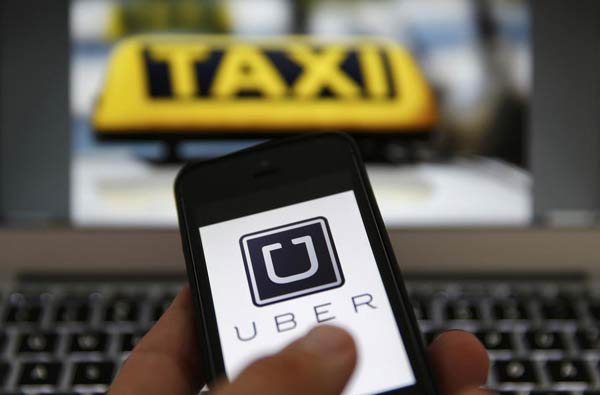 A file illustration picture shows the logo of car-sharing service app Uber on a smartphone next to the picture of an official German taxi sign in Frankfurt, September 15, 2014. [Photo/Agencies]
With the debate over closing of Uber accounts by instant messaging app WeChat turning red-hot, Founder and CEO of Tencent Holdings, which operates WeChat, Pony Ma Huateng expressed his opinion on the issue on Monday.
"Uber did get punished though it operated multiple accounts to avoid the account freeze by WeChat," said Ma, according to CBN's online portal -- yicai.com.
Ma said the enterprise account of Uber, which has many followers on WeChat, should contact WeChat and submit the national Internet Content Provider (ICP) Licence.
"The platform (WeChat) will treat all enterprises equally and strengthen its administration during the year-end period," Ma added. "Even Didi Kuaidi (whose major shareholder is Tencent) has to follow regulations and the company has been punished for engaging in undue network marketing."
According to a previous report by Xinhua News Agency, Tencent has shut down dozens of WeChat accounts of Uber.
The move came after Uber's rivals, including Lyft in the United States, GrabTaxi in Southeast Asia, and Didi Kuaidi in China, announced a global ride-sharing partnership to vie with Uber.
Users of Uber who protested the shutdown of the Uber-related accounts have voiced their doubt over Tencent's move, saying it is using its monopoly to fend off Uber. But Tencent said the accounts violated rules and were suspected of collecting users' private information, according to a Saturday report from Beijing Times.
Uber also took a counter-measure on Weibo, another social networking site backed by Alibaba, calling on its users to stand on its side.
Wang Yichao, vice-director of Uber's public relations, said on its verified Weibo account that Tencent fell short of providing evidence to support its accusation that Uber was doing "malicious marketing activities."
It is not the first time that a popular Internet service has been blocked by another.
Taobao, an online-shopping platform operated by Alibaba, blocked visits from WeChat in 2013.
Tencent later blocked the music sharing site Xiami Music, in which Alibaba has a stake.
JD.com, with which Tencent has signed a cooperation deal, also blocks Alibaba's payment platform Alipay.
Before this, Uber's official WeChat account was blocked by Tencent in March.
Both Uber and Didi Kuaidi claim to have gained the upper hand in China. Uber said last month that China is likely to surpass the United States as its largest market by the end of this year while Didi Kuaidi said it has taken 83.2 percent of the market share in the third quarter of 2015.
Xinhua contributed to this story.