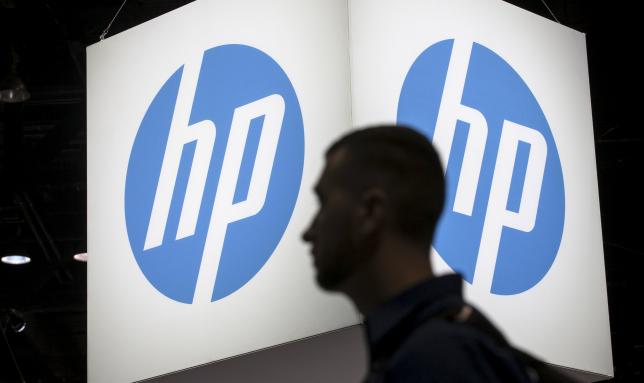 An attendee at the Microsoft Ignite technology conference walks past the Hewlett-Packard (HP) logo in Chicago, Illinois, May 4, 2015.[Photo/IC]
Hewlett-Packard Co, the United States-based tech giant, said on Friday that it was confident of clinching more government procurement deals in China after setting up a joint venture with Tsinghua University in Beijing.
HP sold 51 percent of the stake in the Hangzhou-based H3C Technologies Co Ltd to Unisplendour Corp Ltd for at least $2.5 billion. Unisplendour is an information technology arm indirectly controlled by Tsinghua University. The new H3C will also include HP's server, storage and service units in China.
It is the first time that a major US tech firm has ceded control of a fully-owned subsidiary to a local player to win government-backed deals in China, where concerns over information security have kept most of the overseas providers out of the game.
Bill Veghte, executive vice-president and general manager of HP's Enterprise Group, said he is optimistic that the joint venture will receive more business opportunities in many sectors, including government-backed ones.
"It marks the next chapter of our operation in China. We are creating the next-generation IT infrastructure provider. Tsinghua is the right partner," Veghte said.
Zhao Weiguo, chairman and president of Tsinghua Unigroup, the parent of Unisplendour, said the company's State-owned status was an advantage when closing the purchase with HP.
"Our enterprise strategy is in line with the national strategy and this gives us an edge when pursuing a top position in IT market," he said.
The new joint venture will become the second-largest enterprise hardware provider in China after Huawei Technologies Co Ltd, according to research firm International Data Corp. Enterprise hardware includes servers, storage and network equipment.
HP's decision of moving its own server, storage and technology support teams in China into the new H3C has surprised many industry insiders.
Gene Cao, a senior researcher at market research firm Forrester Research Inc, said HP is showing its commitment to the Chinese government that the company is ready to share the profits in China with local players.
"Unisplendour's strong State background attracted HP the most. Teaming up with a local vendor will help HP avoid restrictions on overseas IT providers. However, it still has to be willing to give a part of the earnings to its local partner," Cao said.
H3C was a profitable company before the change of hands. Its operating profit last year was about $300 million.
Hu Xiangdong, research director at IDC, said: "After the Tsinghua investment, H3C has officially become a local player, which is a big advantage in the network equipment market where most of the orders come from the government."
Kitty Fok, head of IDC China, said the HP-Unisplendour joint venture is opening a new option for other overseas players who are worried that the tighter controls over IT products will hurt their China business.
Government officials are paying more attention to information security after whistleblower Edward Snowden unveiled details of a massive surveillance project orchestrated by the US government.
John Chambers, CEO of Cisco Systems Inc, said last week that orders from China fell by 20 percent during the quarter ended on April 25 because of security tensions between Washington and Beijing. Cisco was the sixth-largest IT hardware vendor in China by the end of last year, according to IDC.
Mistrust on information security issues is also hurting Chinese enterprises' operations in the US.
A US Navy spokesman said IBM Corp's servers used in the Navy are likely to be replaced because of security concerns after Lenovo Group Ltd acquired the server unit from IBM.