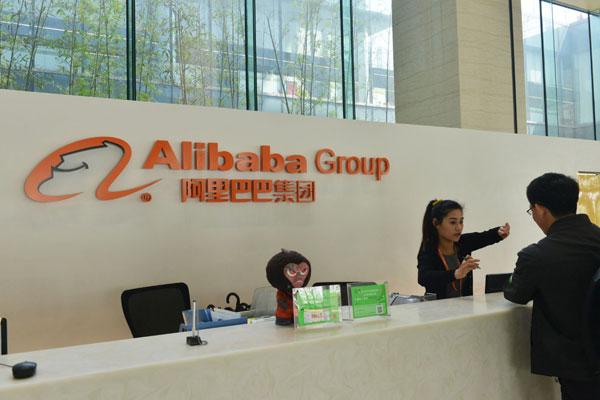 An employee of Alibaba Group answers questions from a visitor in the group's headquarter in Hangzhou, Zhejiang province. Alibaba seeks to raise at least $1 billion through an IPO in the US. Long Wei / For China Daily
Government's Internet cleanup campaign is said to be behind drop
Chinese tech companies are undergoing price corrections in the US stock market. Analysts said pressure may increase with e-commerce giant Alibaba seeking to raise at least $1 billion through its US IPO.
Share prices of Chinese online media servicers Youku Tudou Inc and Sohu have tumbled by roughly 32 percent this month.
Shares of Sina Corp, a Chinese Internet portal operator, sank by 29.5 percent. Online real estate service provider SouFun retreated 20 percent, and online travel agency Ctrip declined 11.6 percent during the period.
Analysts said the slump of IT companies was directly attributable to Chinese authorities' campaign to clean up the Internet.
Shares in Sohu sank to a one-year low last Monday in New York after China ordered the company to remove the US television show The Big Bang Theory from its website. Peers, including Youku Tudou and Baidu, also tumbled after their video business was affected by the campaign.
Weibo Corp, the latest Chinese IT company to debut on Nasdaq, tumbled heavily in late April when its parent company, Sina Corp, lost several online publication licenses and was fined by the authority for pornography offenses.
"On the other hand, the correction seems natural, as some companies had earlier experienced aggressive growth. Investors are concerned about China's macroeconomy and the US' QE [quantitative easing] tapering," said Liu Yanfeng, a partner at Horseshoe Bay Capital in Beijing.
Liu said Alibaba's IPO would definitely impact other Chinese firms listed on the US market.
"For one thing, it will divert capital on the secondary market. For another, the valuation of Alibaba is crucial. If it is set too high and faces downward pressure after its IPO, other Chinese listed companies are highly likely to be affected," he said.
Overseas investors returned to Chinese IPOs in late 2013 after mostly avoiding them for years following accounting scandals and delistings. However, some analysts said the brief romance may be over, mainly due to concerns over slowing economic growth.