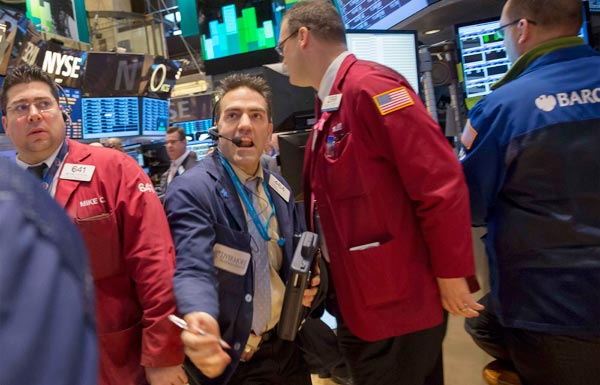 Traders on the floor of the New York Stock Exchange. About 15 to 20 Chinese enterprises are expected to list their shares in the US this year amid restored investor confidence in the nation's companies. [BRENDAN MCDERMID/REUTERS]
About 15 to 20 companies from China are expected to go public in the United States this year amid restored investor confidence in the nation's companies, a senior executive of the stock exchange in New York said on Wednesday.
The new listings from China will mainly be in the health, high-technology and retail sectors.
"China has become the third-largest country by the number of companies listed on NYSE Euronext, following the United States and Canada," said David Ethridge, senior vice-president and head of capital markets at NYSE Euronext Inc, which operates equity exchanges around the world.
As of Nov 30, 2013, there were 74 Chinese companies listed on the New York Stock Exchange and nine on a smaller subsidiary exchange established specifically for small-capitalization companies. These companies' total market capitalization stood at $1.04 trillion on that date.
Ethridge said that China will remain in the top three because of Chinese companies' desire to list on the exchange as well as renewed investor confidence in such listings.
Starting in late 2010, the shares of US-listed Chinese companies were targeted by short-sellers. The situation became so serious in the fourth quarter of 2011 that 58 Chinese companies faced the prospect of being delisted in the US.
Their share prices recovered slightly in the first half of 2013. In the second half, conditions improved greatly, with the prices of 50 percent of those companies up more than 50 percent year-on-year. Discount online seller Vipshop Holdings Ltd even saw its price increase 369 percent last year.