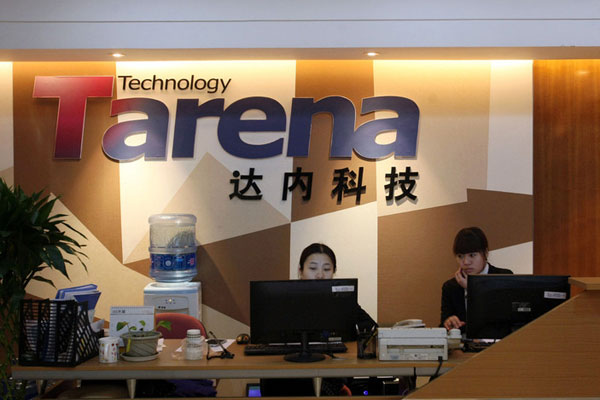 Chinese employees work at the front desk of the Shanghai office of IT training company Tarena Technology in Shanghai, China, March 20, 2014. [Photo/dfic.cn]
NEW YORK -- Leading professional educator company Tarena International made its debut on the Nasdaq Stock Market Thursday, becoming the first Chinese initial public offering (IPO) on the US stock market this year.
"Our company is anticipated to grow at 50 percent in 2014 and 40 percent in 2015 in terms of sales," Shaoyun Han, the company's president and chief executive officer, said in an exclusive interview with Xinhua.
The company priced its IPO of 15,300,000 American Depositary Shares (ADS) at $9 per ADS, for a total offering size of $137.7 million, according to Han. Each ADS represents one Class A ordinary share of the company.
He said that the IT vocational industry's sales are forecast to increase at an average of 10 percent each year for the next few years, quoting a report from IDC, a third-party research firm.
Tarena's shares closed at 9.06 dollars apiece on its first trading day, slightly higher than its IPO price, bucking the trend amid a general dip in tech shares.
"After going public on the Nasdaq, the company will make itself more involved in the US market where a number of IT leaders gather, while prompting its brand internationalization further," he said.
Since its inception in 2002, Tarena has trained over 130,000 students, cooperated with more than 500 universities and colleges, and placed students with about 35,000 corporate employers in a variety of industries, the statement showed.
Han also admitted that his company is facing a big challenge in that they can't recruit enough talent to underpin its market expansion, and there is much more demand than what they can provide.
"We established 35 training centers last year. It's a little faster. We'll slow it down this year," he revealed.