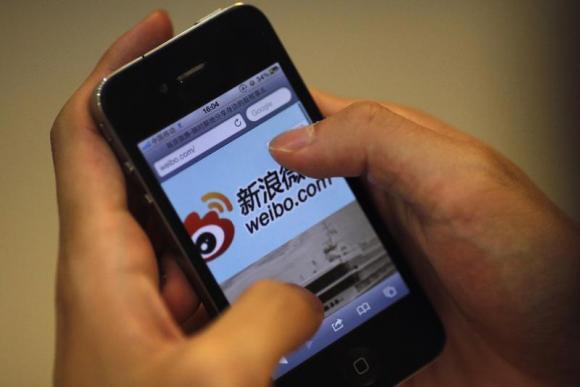 A man holds an iPhone as he visitsSina's Weibo microblogging site in Shanghai May 29, 2012. [Photo/Agencies]
Weibo Corp, Twitter Inc's counterpart in China, will make its debut on Nasdaq on Thursday by pricing its share at $17 each at the initial public offering.
The IPO price of the Beijing-based microblogging service owned by Sina Corp and Alibaba Group Holding Ltd is at the bottom of Weibo's planned range of between $17 and $19.
The company, which will go public under the ticker WB, said it hopes to sell 16.8 million Class A American depositary shares, which would allow Weibo to raise up to $328.44 million in capital. Twitter Inc raised $1.8 billion in its IPO in November.
Charles Chao, CEO and chairman of the board of Sina Corp, will have an online media briefing with a group of reporters in Beijing at 7:30 pm on Thursday, about two hours before ringing the bell at Nasdaq.
According to Bloomberg, Weibo's $17-$19 offer price would mean the company is worth about as much as Twitter, which claimed it had 241 million monthly active users. Weibo said in March that it has 144 million monthly active users.
Weibo filed its first public IPO on March 14, joining seven other Chinese Internet companies seeking capital in the United States, which have raised a total of $2.8 billion in New York this year, data compiled by Bloomberg shows.