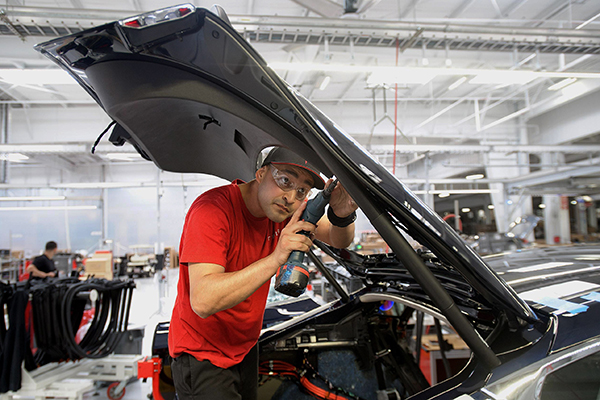 A worker welds a Model S sedan at Telsa Motor Inc's assembly plant in Fremont, California. [Photo/Agencies]
Automaker plans big expansion to tap into changing public mood toward vehicles
US electric automaker Tesla Motors Inc plans to open at least 10 new stores this year in China, which recently became its second-largest market after the United States in the first quarter of 2016, with a growth rate of more than 300 percent, a senior official of Tesla told China Daily on Wednesday.
"We are very confident about our future in China. The development of our business is sustainable," said Zhu Xiaotong, president of Tesla China.
Zhu said that the last couple of years has seen a significant change in public perceptions toward electric cars in China.
"People's interest in the Model S two years ago was based on a sense of curiosity. Now Tesla buyers are very rational, they want a car that can fulfill their traveling needs," he said.
"The transformation is vital as demand is now much more sustainable," Zhu added.
With strong policy support, China's new-energy vehicles sector recorded an explosive growth last year. The country produced 340,471 NEVs and sold 331,092, an increase of 330 percent and 340 percent respectively from the previous year, data from the China Association of Automobile Manufacturers showed.
The automaker does not release its sales in any single market.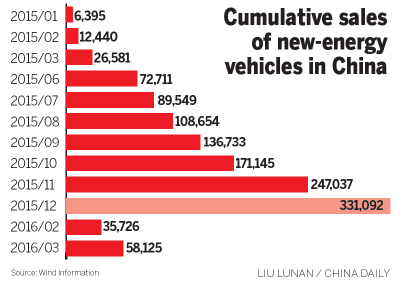 Globally, it delivered 14,820 cars in the first quarter, up about 50 percent year-on-year. It aims to deliver 80,000 to 90,000 cars globally this year.
Tesla's confidence in the China market is also due to strong government support. Both central and local governments have offered preferential policies with regard to NEVs. For example, Shanghai offers free license plates for several NEV models, instead of the bidding policy for gasoline vehicles.
On Tuesday, Tesla China said the company's models had once again been approved for free license plates by the Shanghai transportation authority.
The Shanghai government renews its list of automakers eligible for free NEV license plates annually. This year's list was announced several days ago.
Tesla also plans to build a factory in China. At the end of last year, Tesla CEO Elon Musk said that the company planned to build a factory in China in three years, without providing details such as the location.
Musk has said on many occasions that Tesla's vision is to create sustainable energy vehicles which are affordable to the general public.
On April 27, Xin Guobin, vice-minister of industry and information technology, had a meeting with Jon McNeill, Tesla's president of global sales and service in Beijing.
Tesla did not disclose the detail of the meeting, but the ministry said on its website that it was about the development of Tesla's China business and further cooperation.
Several media outlets said on Wednesday that the meeting was about the details related to building factories in China.
Duan Zhengzheng, the senior PR manager of Tesla China, said that the automaker is currently investigating that most appropriate location for its China plant, and could not disclose any further details.
However, a number of Chinese media outlets have reported that Suzhou in Jiangsu province may be its location.
"Localization will help its sales for sure," said Zhang Yu, managing director of Automotive Foresight Co, "local production means Tesla will get subsidies from the government, but it needs to hurry, as the subsidies offered to manufacturers and customers are set to decline over the next few years."