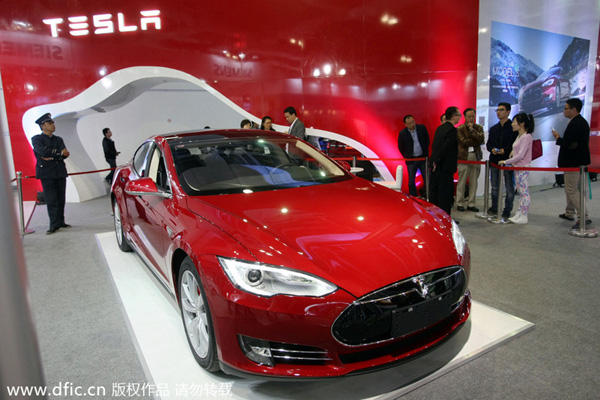 Visitors look at a Tesla Model S electric car on display during the 2nd China (Shanghai) International Technology Fair in Shanghai, April 27, 2014. [Photo/IC]
HONG KONG - US electric vehicle manufacturer Tesla Motors said Thursday that it has expanded its Hong Kong team to meet the company's long-term goal to provide sustainable transportation in the city.
Tesla Motors set up its Hong Kong office in 2010 followed by a service center in 2011. The Hong Kong team is expanding to cope with a growing demand for electric vehicles in the city and its workforce has increased from 10 to 50 people in the past three years.
Vice President of Tesla's China operations Veronica Wu said that the company's workforce will exceed 100 by the end of this year. The company has recently hired a region director for Hong Kong to head the rapidly expanding team.
Wu said geographically Hong Kong is a very small city, so customers only need to recharge their cars once a week basically, which makes their products especially appealing.
Tesla Motors's Model S sedan, with three different kinds of capacity of batteries, is now available in Hong Kong.
"In addition, we appreciate the first registration tax exemption for electric vehicles in the city, and that also allows us to set a very competitive price in the market," she said.
She said Hong Kong could potentially be the place to showcase the success of electric vehicles to the rest of Asia. The Hong Kong government is very open to the idea of electric vehicles and very committed to supporting sustainability. "I think that Hong Kong will be a reference city in Asia Pacific in terms of electric vehicle use."
The California-based Tesla Motors was founded in 2003 by a group of Silicon Valley engineers who wanted to prove that electric vehicles could overcome recharging and low-speed problems.