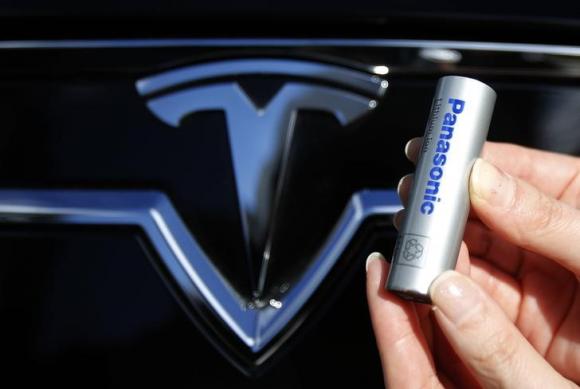 A Panasonic Corp's lithium-ion battery, which is part of Tesla Motor Inc's Model S and Model X battery packs, is pictured with Tesla Motors logo during a photo opportunity at the Panasonic Center in Tokyo, ahead of the 2013 Tokyo Motor Show, November 19, 2013. [Photo/Agencies]
Panasonic Corp has reached a basic agreement with Tesla Motors Inc to initially supply the electric car maker's proposed lithium-ion battery plant with machinery to make battery cells, the Nikkei said.
Panasonic will likely invest about 20 billion yen to 30 billion yen ($196.4 million-$294.7 million) initially, the paper said.
An official announcement would be made by the end of July, according to the Nikkei.
A Tesla spokesman declined to comment on "speculation regarding Panasonic."
Tesla is looking at three sites in the United States to build the plants, dubbed the "Gigafactory", which by 2020, would be able to make more lithium-ion batteries in a year than were produced worldwide in 2013.
Panasonic said in May it wanted to be the sole battery cell maker at Tesla's multibillion-dollar battery factory.
Total investment in the factory is expected to be about $5 billion, with Panasonic's share reaching $1 billion, the Nikkei reported.