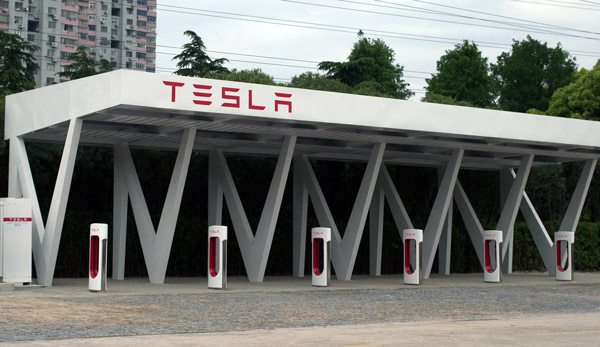 Charging facilities built by US
electric car
producer
Tesla
Motors Inc in Shanghai. The company will cooperate with China Yintai Holdings Ltd to build the first Tesla charging facility in downtown Beijing. [Photo / China Daily]
US electric car producer Tesla Motors Inc inked an agreement on Wednesday with real estate developer China Yintai Holdings Ltd to collaborate on a destination charging project.
Under the cooperation, the first Tesla charging facility, on Beijing's Chang'an Street, will be put into operation in the Beijing Yintai Center in the capital's central business district, providing free charging for Tesla vehicles.
According to Yintai, Tesla customers may leave their vehicles in the parking spaces, and while they are off shopping, the charging facility will power the cars for up to 100 km of driving.
In the first phase, Yintai will provide Tesla with 40 spaces with charging facilities in the developer's commercial complexes in Beijing and Hangzhou. The project will later expand to Yintai developments in at least 30 other cities.
"Tesla has seen rapid development in China, and charging infrastructures to support electric transportation are well on track," said Wu Bixuan, vice-president of Tesla. "By partnering with real estate developers like Yintai, Tesla is accelerating the expansion of the destination charging service around the nation."
After delivering its first batch of Model S cars to Chinese consumers in late April, Tesla began actively seeking opportunities to build a charging network for the vehicles.
So far, the company has set up two supercharger stations in Shanghai, providing continuous charging with batteries and with electricity supplied by power grid and solar energy. Another station in Wangjing, a community in northeast Beijing, will start operations soon.
Tesla founder and CEO Elon Musk said he hoped to form partnerships with companies such as State Grid Corp of China to start constructing more charging facilities.
"Charging stations can also be run without power utilities," Musk said. "Solar panels can actually work independent of electricity, but our main goal is to make sure the power is sustainable and clean."
Industry experts say the major hurdle for wide adoption of electric vehicles is the lack of charging infrastructure, especially in public areas.
"It's almost impossible to always charge the electric vehicles at home," said Jia Xinguang, an independent auto analyst based in Beijing. "So, public charging infrastructures, similar to gas stations for combustion engine vehicles, will be a key driver to speed the convenience of using electric vehicles."
In April, it was reported that Tesla would be talking with Sinopec Group for potential cooperation to establish vehicle-charging facilities around Sinopec's nationwide service-station network.
Electrical equipment giant ABB announced in February that it had entered into a partnership with Shenzhen BYD Daimler New Technology Co to supply direct-current fast chargers over the next six years.
The announcement said the agreement will result in the world's largest fast-charging network for electric vehicles.
According to the two companies, the wall-mounted chargers will possess a number of innovations designed for user convenience and safety, including a mobile app that allows cloud-based remote monitoring and control of charging sessions.
First deliveries are expected by the middle of the year. The chargers will be sold through BYD-Daimler's Denza dealerships along with the vehicle.
The first Denza dealership will open in Beijing, and more dealerships will be built simultaneously in Shanghai and Shenzhen.
Also in February, BMW Brilliance, the German luxury vehicle producer's local joint venture, debuted its first electric vehicle, the Zinoro 1E, with a showroom and charging facility in Sanlitun SOHO in Beijing, which was developed by Chinese real estate tycoon Pan Shiyi.