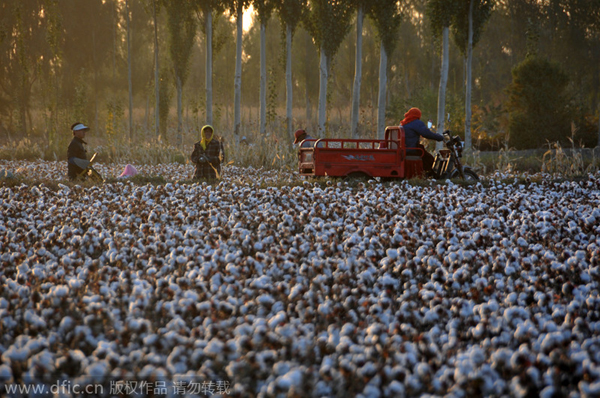 Chinese farmers harvest cotton in a field in Jiuquan city, Northwest China's Gansu province, October 8, 2013. [Photo/IC]
BEIJING - China's cotton demand is expected to exceed its domestic supply by 2 million tons in the year from September 2014 to August 2015, official data showed on Thursday.
The gap is double that of the same period last year, according to a video conference jointly held by a number of Chinese government ministries and departments.
In the 12 months, the growing area of cotton in China is expected to decline to 63.40 million mu (about 4.23 million hectares), down 9.4 percent from the previous year, and the cotton yield is also forecast to fall by half a million tons to 6.5 million tons, said Lian Weiliang, deputy head of the National Development and Reform Commission.
Due to rising cost and falling profitability of cotton growing and the government's abolition of its "temporary purchasing policy" to prop up prices, the cotton growing area in the Yangtze River Basin and the Yellow River Basin has fallen by a "relatively big margin," Lian added.
As China's textile industry is recovering from its decline in 2013, the demand for cotton is expected to increase by half a million tons from the previous year to 8.5 million tons, said conference delegates.
Lian called for a new purchase and sale mechanism for cotton, the introduction of a "nationwide modern logistics system" for the material and boosted yields through better technology, as measures to fill the demand-supply gap.