Ford's China sales to stun Japanese rivals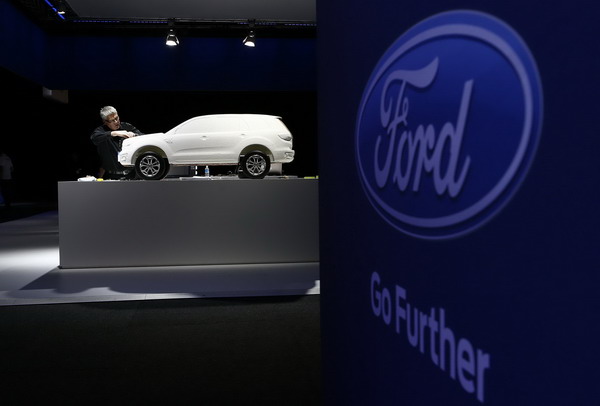 A Ford employee works on a model at a media event to launch a concept car in Sydney August 13, 2013. [Photo / Agencies] 
Ford Motor Co is poised to overtake its Japanese rivals on the top seller's list in China as Toyota Motor Corp and Honda Motor Co struggle to regain market share following a flare up in anti-Japanese sentiment a year ago.
For much of the past decade, the Dearborn, Michigan-based automaker has languished some way behind Japanese brands and South Korea's Hyundai Motor Co. And it has lagged a long way behind General Motors Co and Volkswagen AG in China.
That's mainly because of Ford's late foray into China and the subsequent, conservative approach it has taken in an auto market that became the world's biggest in 2009.
Ford is fighting to change that picture and appears likely to sell more vehicles in China this year than two of its main Japanese rivals - Toyota and Honda. Its China sales are also zooming close to that of Nissan Motor Co.
Ford is likely to sell more than 900,000 vehicles, including passenger cars and commercial vehicles, in China this year thanks to its beefed-up product lineup, said a company official who spoke on condition of anonymity. New in the showroom since last year are a couple of small sport-utility vehicles and the redesigned Focus car.
It has also just launched the redesigned Mondeo car, a China version of the car marketed in North America as the Fusion.
The American automaker sold 551,738 vehicles during the first eight months of the year, up 50 percent. The company is expected to release its September China sales data as early as on Wednesday.
"We should be able to sell more than 900,000 vehicles, possibly close to a million in China this year," the Ford official said.
Toyota is targeting to sell about 900,000 vehicles and Honda about 750,000 in China this year. China-based spokespeople at the two firms said they were on track to meet those objectives.
Nissan is aiming to sell 1.25 million vehicles, but a Nissan company executive speaking on condition of anonymity said last month the company was "stretching to achieve" that goal.
The Japanese carmakers have, however, recorded a sharp rise in year-on-year sales last month partly due to the low base from last September, when Japan's decision to nationalize disputed islands in the East China Sea sparked anti-Japan sentiment among Chinese consumers.