Stage set for record Chengdu Motor Show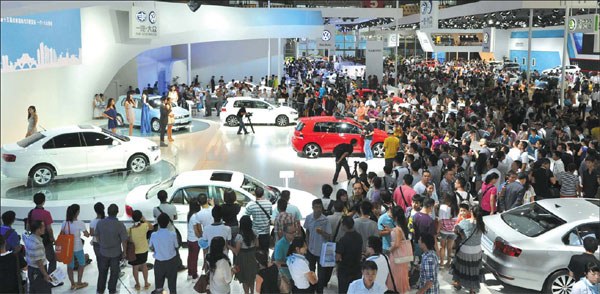 The 2012 Chengdu Motor Show attracted 550,000 visitors. Some 600,000 are expected this year, said event organizers. Provided to China Daily
Larger displays, new debuts and range of 'carnival' events
As one of the top four auto shows in China, the Chengdu Motor Show 2013 is hosting a grand opening at Century City New International Convention & Exhibition Center today to kick off its biggest session ever.
Press day will then run today followed by trade days on Aug 31 and Sept 1. The show will be open to the public from Sept 2 to 8.
The 10-day exhibition is expected to receive more than 600,000 visitors, said event organizers.
With the theme of "Driven by a Colorful Auto Show", this year's show will cover 140,000 square meters, occupying all nine halls and the outside area of the exhibition center for the first time.
Leading automakers from home and abroad will debut a variety of new cars. Seven brands have enlarged their display areas this year to almost 2,000 sq m, said organizers.
With joint efforts by Hannover Milano Fairs Shanghai Ltd and Century City New International Convention & Exhibition Centre Ltd, the Chengdu show is evolving into a global event in the auto industry, they added.
The auto sub-council of the China Council for the Promotion of International Trade and the Society of Automotive Engineers are also providing strong support.
Green and innovative
As its new theme indicates, this year's event is "a colorful auto show" covering major trends in the industry including green technology, innovative driving systems, intelligent technology, creativity and design, according to organizers.
They said "visitors will be captivated by the development of auto industry through the fascinating exhibition - like the dazzling visual effects and amazing virtual driving experiences on site".
Instant messaging tools including the popular WeChat and various forms of information interaction technology will be used for the show, said the organizers.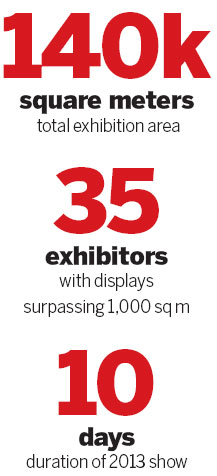 They said the prosperity of China's auto market in the first half of this year has spurred auto manufacturers to leap at the chance provided by the Chengdu show.
Automakers from Germany, Japan, the United States, South Korea and China's independent brands are all showcasing models.
German auto giants Audi, BMW and Mercedes-Benz along with brands from other countries including Jaguar Land Rover from Britain, Infiniti from Japan, and Chrysler from the United States, will have larger exhibition areas than before.
Exhibitions have increased in size by 20 percent on average, with 35 exhibitors outfitting displays of more than 1,000 sq m. Dongfeng-Yueda-Kia, Beijing Hyundai, SAIC Motor, Audi, BMW, Infiniti and Mercedes all have booths close to 2,000 sq m.
More debuts
Far outshining the last session, the increasing number of debuts and concept cars highlight the success of the 2013 show, said organizers.
Peter Schreyer, president of Hyundai-Kia Automotive Group, and leaders of Beijing Hyundai will be present to unveil the long-anticipated world premiere of the Mistra, a volume-production model by Beijing Hyundai.
Mercedes-Benz, Chrysler, and Skoda have confirmed premieres in Chengdu as well.
Organizers said "a variety of fantastic activities" will be held concurrently, with the outdoor display area reserved for second-hand cars from top brands.
Other activities include the Segway test drive, the first session of the Southwest Racing Car Challenge and Auto Doodle Match, giving the event a carnival atmosphere and "whipping the city into an auto frenzy", said the organizers.
To guarantee a top experience, the organizing committee has set up a press center, a visitor lounge and several inquiry sectors to organize on-site services.
Tracking the growth of the Chinese auto market, the Chengdu Motor Show has matured over more than 10 years of development.
It has blossomed from a regional event to one of the top four auto shows in China, said organizers.
zhuanti@chinadaily.com.cn
(China Daily 08/30/2013 page18)