Telecom giants seek leadership in 5G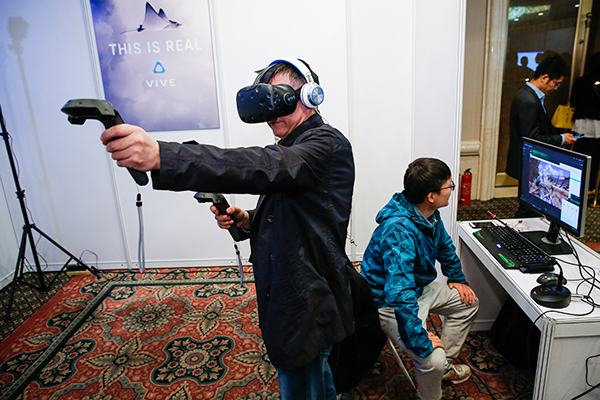 A visitor tests HTC's VR facilities at a 5G technology and test seminar held in Beijing in April. [Photo/Xinhua]
New generation of internet will allow consumers to download 8-gigabit movie in seconds
With the world's largest number of 4G users, China's internet operators and telecom equipment makers are scrambling to gain an edge in the global race to develop 5G, or the fifth generation mobile communication technology.
This new generation of the internet will allow consumers to download an 8-gigabit movie in seconds and execute tasks that are thrilling but impossible in the 4G era, such as self-driving cars and the internet of things.
Chinese firms are working hard to put 5G into trial operation in 2018, after connecting more than 680 million users to 4G networks within two years.
Wen Ku, director of the telecom development department at the Ministry of Industry and Information Technology, said the country has already finished the first phase of its 5G tests in September.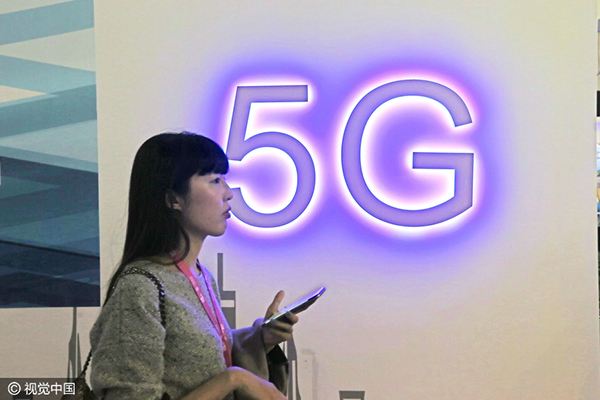 A 5G display station at the 25th PT/EXPO COMM China in Beijing in September. [Photo/VCG]
"The initial tests proved what technologies are feasible with 5G and strengthened companies' confidence in conducting further research and innovation," Wen said.
Domestic and foreign telecom firms have played an active role in the process, with contributions from Huawei Technologies Co Ltd, ZTE Corp, Ericsson AB and Nokia Corp.
The move is part of China's broader effort to lead the pack in rolling out 5G services. In 2013, the government set up the IMT-2020 (5G) Promotion Group to boost the development of 5G. The experimental stage of 5G will last three years from 2016 to 2018, before kicking off its commercial use in 2020.
"The second phase of test operations, which is expected to be completed by the end of 2017, will focus on how to integrate these technologies to provide solutions," Wen said, adding that chip makers and more firms will get involved in the initiative.
China Mobile Communications Corp, the world's largest telecom carrier by subscribers, is also making steady progress.
In August, the Beijing-based firm completed the world's first 5G drone prototype field trial by partnering with Ericsson, the Swedish telecom equipment maker.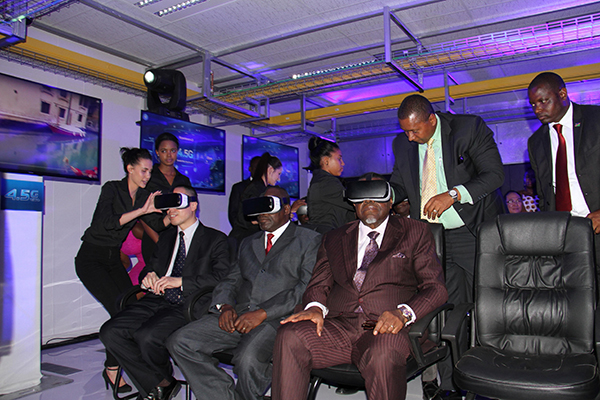 Namibian President Hage Geingob (first right in front row) and other guests try out VR equipment under 4.5G network by Huawei in Windhoek, Namibia, in April. [Photo/Xinha]
In the trial, held in eastern China's Jiangsu province, a drone was flown using the operator's cellular network with 5G-enabled technologies and with handovers across multiple sites.
The technology can be potentially used to support mission-critical applications such as emergency services, if end-to-end low latency is guaranteed, China Mobile said in a statement.
Latency is defined as the amount of time it takes for a packet of data to get from one point to another.
Huang Yuhong, deputy head of China Mobile Research Institute, said 5G will no longer be a simple technology or a system. Instead, it is a platform where the telecom industry needs to be deeply linked with other sectors.
As part of its efforts to promote 5G, the firm's R&D spending grows 30 percent annually, currently accounting for 2.3 percent of its total revenue, Huang added.
In February, the State-owned firm set up a 5G innovation center by teaming up with 11 partners including Huawei, Ericsson, Nokia and Qualcomm Inc. The center focuses on 5G technologies that can support the internet of things and the use of the internet in manufacturing and industrial production.
Huawei, the world's largest telecom equipments manufacturer, is taking a more practical approach on the road to 5G. The Shenzhen-based firm is set to apply 4.5G technology, which can improve data transfer speeds through the use of existing telecommunications infrastructure.
It plans to upgrade 60 networks to 4.5G this year by partnering with global telecom carriers, including TeliaSonera AB in Norway.
"We are the first to show the world that it is possible to boost internet speed to over 1Gbps from 150 Mbps by using the current 4G infrastructure," Xu Wenwei, strategic marketing president at Huawei, said in an interview with Chinese news portal sohu.com.
Xiang Ligang, founder of the telecom industry website cctime.com, said it is still several years before the international community reaches a consensus on 5G network standards.
But the demand for superfast internet speed is growing quickly amid the increasing popularity of services such as cloud computing and streaming ultra-highdefinition videos.
"It makes great sense to experiment with 4.5G. Technologies enabling the large-scale commercial use of 4.5G are very likely to be accepted as part of 5G standards," Xiang said.