Craftsman pursues 'beauty of welding'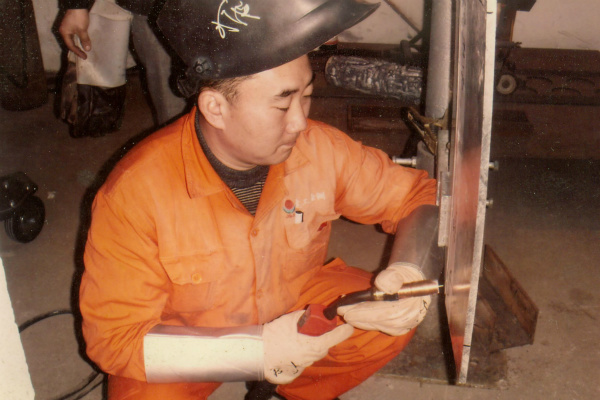 Yang Bo, a senior welding technician working for Chongqing Industrial Equipment Installation Group Co Ltd. [Photo provided to chinadaily.com.cn]
Editor's note:
The "Chinese Dream · Craftsman of Great Powers" campaign is carried out jointly by the Cyberspace Administration of China and the All-China Federation of Trade Unions with participation from central news websites, local key news websites and major commercial websites. The activity, aimed at an in-depth studying, promoting and implementing the spirit of the 19th National Congress of the Communist Party of China, carries forward the model worker spirit and craftsman spirit. It creates a social conduct of honoring work and an ethos of respecting professional dedication by reporting the stories of typical grassroots craftsmen.
In his smartphone, Yang Bo has a photo saved - a 316L stainless steel pipe he welded.
"Look at the shape of the welds! They are even, uniform and beautiful, just like artworks," Yang said with pride.
"When it comes to welding, people usually think of sparks, noises and a man wearing a protection mask, but it is much more than that," he said.
Yang, having been a welder for 31 years and starting when he was 17, said Wednesday in Chongqing that welding is complex and challenging work. It covers a wide range of subjects and fields, such as metallography, materials science and mechanics, he said.
"A senior welder must at least master the basic knowledge of those subjects. Different welding materials, different environments and different shapes and structures would require different skills and solutions.
"In addition, on the basis of meeting the national standard, I always try my best to give an aesthetic value to the welding," Yang said.
For example, the national standard only requires the weld bead height of pressure piping and storage tanks to be 0 to 2 millimeters, but Yang has set a standard for himself - that the weld bead should also be neat and uniform.
"I treat welding like doing art. A senior technician should not be satisfied with 'qualified' but should further pursue a sense of beauty, so that our work can go global," he explained.
In pursuit of perfection
For welders, scars are medals that do not shine.
In the process of welding, the spatter of welding rod and weldment will occasionally burn to a welder's exposed skin, especially when the work is done in a narrow space.
"I have many scars on my body, most of which were scarred in the past, when the protective measures were not very comprehensive," Yang said.
However, this is just a small of part of the work's difficulties.
At the very beginning of his career, when he was hired by Chongqing Industrial Equipment Installation Group Co Ltd, Yang was confused and once thought about giving up.
"I got first place among the 200 appliers in our county, so I believed the company would arrange me to work as an electrician, which in my opinion was an ideal profession at that time."
Yang, in his first days as a welder, was frightened by the sparks and the shabby, dirty work environment.
"If my master and leader had not valued me or been so nice and patient to me, I probably would have given up the job or just not done it so well," he said.
In 1989, Yang's third year as a welder, his master sent him alone to a project in Neijiang, Sichuan province to teach him a lesson. Yang, his master thought, was too complacent and aggressive.
"The client asked me what electrode and welding equipment should be used and what kind of process should be taken, but I had no answer without my master's guidance," Yang recalled. "I realized learning welding is not as easy as I imagined."
Since then, Yang has developed a habit of taking notes. He not only gains knowledge from practice and reading, he also draws lessons from his peers' good works by absorbing the essence and discarding the dross.
"Reading, asking plenty of questions and practicing. I believe they are the three most important things a good welder should keep in mind," Yang said. "It takes more than 10 years to become a mature welder. But 'practice makes perfect' alone does not work in this field. You need to continuously absorb new knowledge to tackle the new material you may run into.
"For example, the inner wall of the high pressure oxygen pipeline made of nickel-alloy must be welded extremely even and smooth to avoid oxygen from exploding in high speed running. And you cannot re-weld it more than one time, because the nickel-alloy is too expensive. You have to make a balance between cost, efficiency and safety."
Yang said he is proud none of the welding done by him has caused any explosion or accident.
There are more than 40 methods of welding at present, of which 17 are commonly used.
Yang has mastered 14 of them, including manual arc welding, argon arc welding, submerged arc welding, co2 gas shielded arc welding, vertical downwards welding and metal inert-gas welding.
He has welded in petrochemical environments, large tanks, pressure vessels, high temperature and high pressure pipelines, boiler power stations, natural gas pipelines, salt chemical industry facilities and worked on a variety of non-ferrous metal.
Yang, having obtained professional titles like senior welding technician and welding engineer and published three papers, has now stepped into a management position as an assistant manager at the fourth branch of CQAZ.
He is putting more emphasis on solving technical problems and teaching apprentices.
"Inheritance matters a lot. I have trained more than 40 technical backbones for the company, some of whom have won awards," he said.
Yang has won many prizes himself. He received the "National Work Model" award in 2010 and was elected as one of the 10 craftsmen representing Chongqing's craftsman spirit this July.
A welder is a wanderer
On the third day after he came back to Chongqing, his home, from a construction site in Hebei province, Yang Bo was still busy answering technical questions on his mobile phone.
Since this year's Spring Festival, Yang has been working at the foundation works of a salt chemical project in Hebei, and could hardly find time for his family in Chongqing.
"A welder is usually a wanderer," Yang said, listing the places he's traveled for work.
"Inner Mongolia, Ningxia Hui and Xinjiang Uygur autonomous regions, Qinghai province, Sichuan province, Sudan, Laos...." In his role as a welder, Yang said he has been to many places in China and even some foreign countries.
One of the hardest working conditions he has experienced was on a 2007 trip to Xinjiang, where the temperature outdoors was below 0 C. He needed to work in a work shed to weld nut steel that was heated to more than 200 C.
"I successfully welded 2,200 weld joints, with all of them passing the nondestructive testing, which made me win the client's appreciation," Yang said.
For welders like Yang, extreme, dangerous conditions are all in a day's work.
He once did welding work in an enclosed box 60 meters above ground, and ran into snakes in the wild.
"I would not tell my family all of the dangers I might meet on every task. I can handle the pressure by myself," Yang said.
Every time he came back home from work, Yang would cook meals, do laundry and tidy the house. He feels guilty that his wife has had to contribute so much for the family.
Yang believes whether you are a craftsman, skilled expert, enterprise executive or general employee, you need to show responsibility and pursuit of excellence in your work.
"Try to look at the world and the development of things with a mild mind. And learn to endure loneliness and pain," he said.
"I love and appreciate my job. It is well-paid, it is honorable, and it makes me achieve something that I could not imagine in the past," Yang said
"If you do not enjoy your work, no one can teach you to be a master."