Craftsman of Great Powers: Female technician crafts new path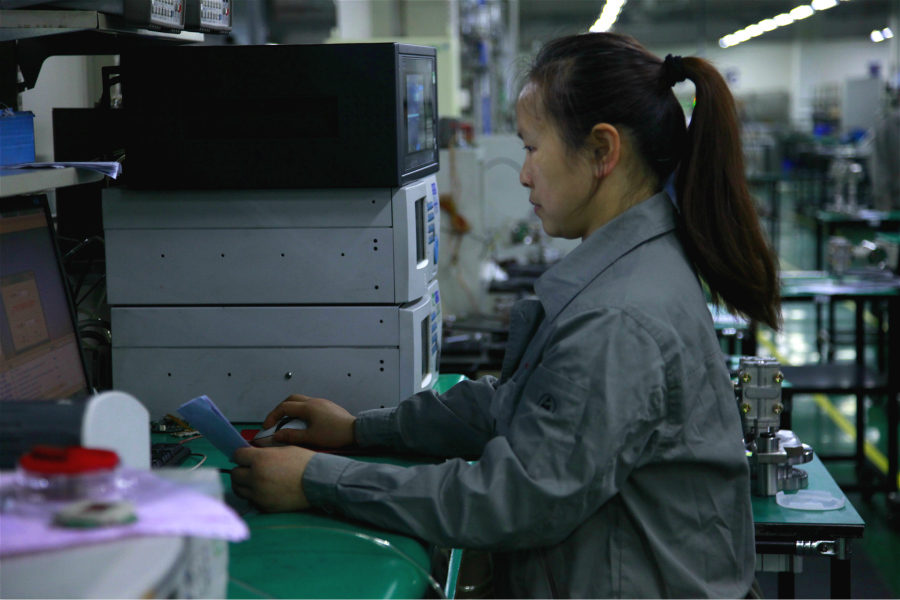 Su Daomei, a technician working at Chongqing Silian Measure & Control Technology Co Ltd, tests a PDS intelligent pressure transmitter at the company's workshop in Chongqing, Nov 14, 2017. [Photo by Zhu Lingqing/chinadaily.com.cn]
Editor's note: The "Chinese Dream · Craftsman of Great Powers" campaign is carried out jointly by Cyberspace Administration of China and All-China Federation of Trade Union and participated by central news websites, local key news websites and major commercial websites. The activity, aimed at in-depth studying, promoting and implementing the spirit of the 19th National Congress of the Communist Party of China, carries forward the model worker spirit and craftsman spirit to create a social conduct of honoring work and ethos of respecting professional dedication by reporting the stories of typical grassroots craftsmen.
Bustling around a narrow working space, Su Daomei, a 45-year-old technician working for Chongqing Silian Measure & Control Technology Co Ltd (CSMC), was busy testing a PDS intelligent pressure transmitter on Tuesday.
Dressed in a pale grey uniform, she looked like an all-too-common worker that can be found in any workshop, except she is petite than most of her male colleagues.
But Su's work has already earned her fame in Chongqing, Southwest China's hilly riverside city.
She became the champion of "Chuanyi Cup", the first national instrument manufacturing industry occupational skill competition, this March. And she was elected as one of the 10 craftsmen representing Chongqing's craftsman spirit this year.