Craftsman of Great Powers: Female technician crafts new path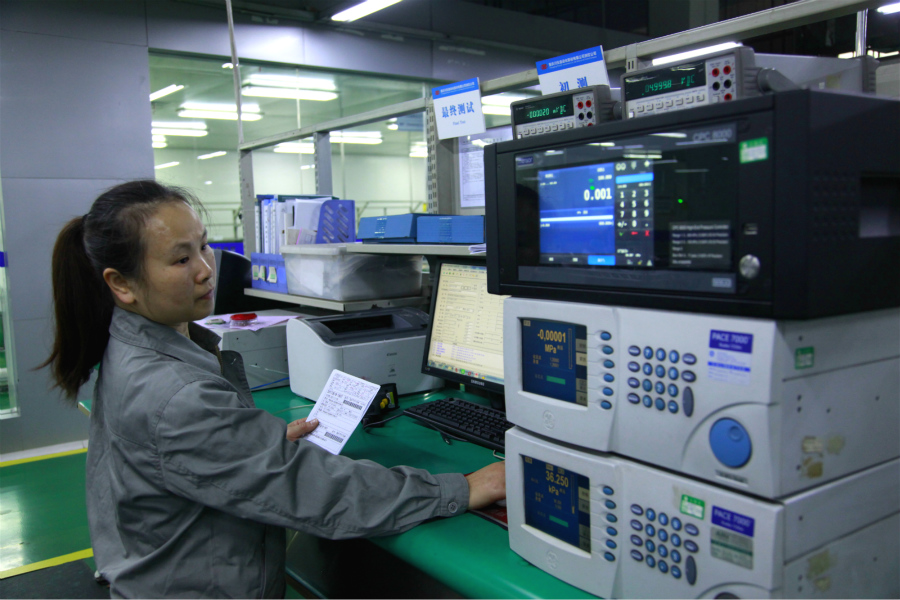 Su Daomei, a technician working at Chongqing Silian Measure & Control Technology Co Ltd, tests a PDS intelligent pressure transmitter at the company's workshop in Chongqing, Nov 14, 2017. [Photo by Zhu Lingqing/chinadaily.com.cn]
The greatest skill is responsibility
A batch of high temperature resistant intelligent pressure transmitters were put on a tote cart, waiting for detection.
In her left hand, Su was holding a check list, while with her other hand she was operating the computer every now and then, with her eyes shifting between the computer screen and several pressure controllers.
The work Su does everyday is detecting and adjusting the parameters of the transmitter to make sure it's performances can meet the requirements of the design.
In industrial process control, a transmitter, which is a crucial component of an instrument, refers to a telemetry device which converts measurements from a sensor into a signal, and sends it to be received by display or control device located a distance away.
As a key process before the product enters the market, Su's work is very important.
"I have been working at the production line of CSMC for 12 years and I enjoy my work. It is not difficult but needs great patience," Su said.
Su had dreamed to be a technician since she was a teenager. At that time she was attracted to a TV character who was a technician working at a factory's workshop.
"From that TV character I found solving problems such a fascinating thing, so I chose to go to Sichuan Instrument Industry School. It was a bold choice at that time because most of girls wanted to learn nursing," Su recalled.