Craftsman of Great Powers: Female technician crafts new path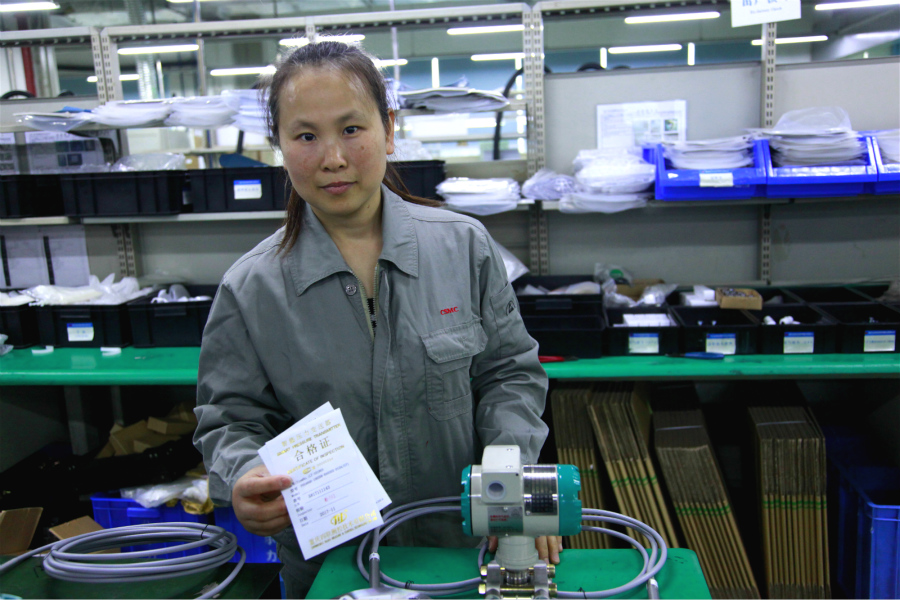 Su Daomei, a technician working at Chongqing Silian Measure & Control Technology Co Ltd, holds a product qualification certificate of a PDS intelligent pressure transmitter tested by her at the company's workshop in Chongqing, Nov 14, 2017. [Photo by Zhu Lingqing/chinadaily.com.cn]
Make 'Made in China' greater
At CSMC, Su witnessed the birth of the high accuracy intelligent pressure transmitter, which is known as the "crown jewel of instrument industry" because of its complex and difficult manufacturing process.
As the first and only company in China that has the ability of independently designing, developing and manufacturing such kind of transmitter, CSMC broke the overseas technical monopoly in this filed and became one of the only three companies in the world that can produce the product.
The error rate of this transmitter, as low as 0.0004, reaches the world's top level.
As a worker, Su is not involved in the core designing work of high-tech products, but she has been practicing making innovations in her position.
Sometimes, even if the error of a transmitter is within the reasonable range, Su will analyze why the error is relatively big and then solve the problem to ensure it achieving best performance.
"Although the quality of these products reached the standard, but their performances are not the best. We should ensure every transmitter we make deliver to the users with the first-class technology and first-class quality," Su said.