Craftsman of Great Powers: Female technician crafts new path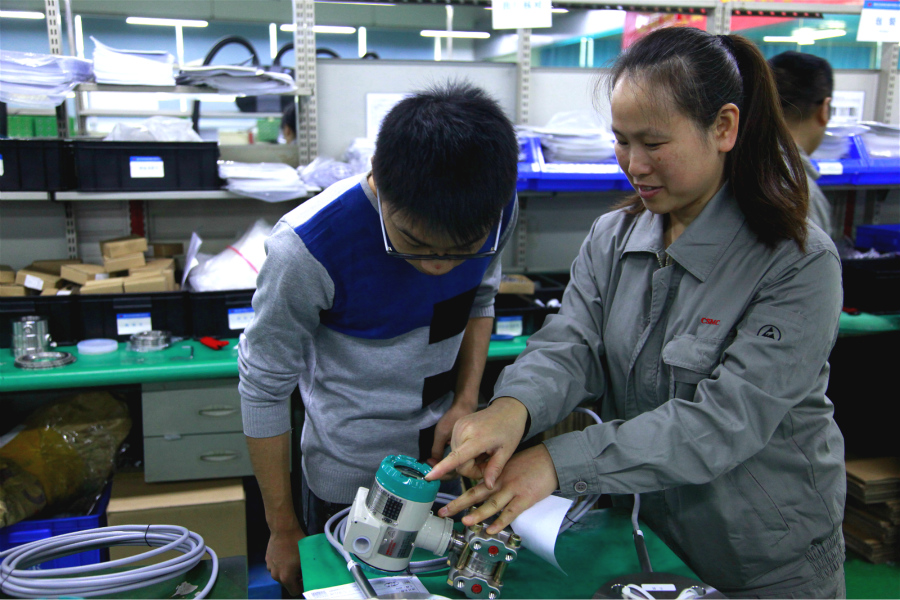 Su Daomei, a technician working at Chongqing Silian Measure & Control Technology Co Ltd, instructs an intern at the company's workshop in Chongqing, Nov 14, 2017. [Photo by Zhu Lingqing/chinadaily.com.cn]
After she graduated in 1993, Su was assigned to Chongqing Chuanyi Analyzer Co Ltd, a subsidiary of Chongqing Chuanyi Automation Co Ltd (Chuanyi).
In 2005, she was transferred to CSMC, which is also a subsidiary of Chuanyi.
After 24 years of work, Su has accumulated great experience of assembly, testing and adjustment work and has made a list of accomplishments.
Ten years ago, when CSMC's PDS intelligent pressure transmitter was just put into market, the connecting wires inside the sensor broke down frequently because of improper use. And once the transmitters broke down, customer would send them back to the factory.
For workers who produced these transmitters, seeing their products valued at thousands of yuan were discarded as useless was pitiful.
"Maybe I can do something to rescue them," She thought. Su turned the problem over and over again in her mind and decided to repair these transmitters by herself.
First, it took her several hours to use a blade to scrape the wires out of the pouring bit by bit. Then, she needed to weld a row of hair-thick wires and use glue and heat shrink tubing to fix them.
This series of processes must be done with great patience. Through Su's efforts, dozens of broken sensors were successfully repaired, which meant an enormous savings for both customers and the company.
When her accomplishments were highlighted by her colleague, Su blushed.
"I am an ordinary worker, the work is not difficult, I just do my duty," she said.