Custom-made products with distinct designs are rolled out for every occasion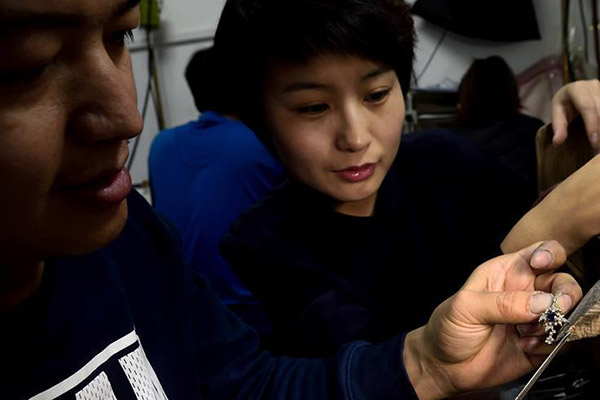 A craftsman discusses design ideas with Wang Yang (right), founder of Beijing-based Hera Moment jewelry company. [Photo/Xinhua]
Li Yuting was eagerly looking for a diamond ring to celebrate her 10th wedding anniversary.
"I wanted a 2-carat one with a unique design," said the 32-year-old housewife, who lives in Shanghai and has a 4-year-old child.
Even though Li still buys blue chip jewelry brands, she tends to go for custom-made items now.
They must be original with unique selling points, such as Chinese characters engraved on, or in, them.
"I started to go for retailers which offered jewelry with designs according to customers' needs," Li said.
"The feeling of finding the right accessories for a dress among my collection gives me pleasure," she added.
Li has items purchased from Chow Tai Fook, Tiffany and Bulgari, but more than 80 percent of her collection is custom-made.
"I like my jewelry to be unique," she said.
Li is not alone in this respect. The demand for high quality accessories with distinct designs is in conflict with the stereotype offerings of old-fashioned jewelry brands.
This in turn has generated lavish spending on luxury accessories by Chinese customers during their trips abroad.
Throw in watches and this accounts for 40 percent of their total overseas outlay, according to Li Jun, founder and chairman of One Jewelry in Shanghai.
"People are now trying to express their individuality, so brands should think how to make a product fit their lifestyle with high product quality and attention to detail," said Ben Cavender, principal at China Market Research Group, a data information company.
"This is creating opportunities for niche brands and accessory makers to stand out. Major brands are not going anywhere, but they do have to rationalize product designs and categories more to ensure they are getting the right products to consumers quickly," he added.
Housewife Li would agree with that assessment, even though some of her jewelry pieces are not expensive but are unique.
Indeed, demand is evolving quickly as the focus shifts from diamonds or gold to a wider choice of metals and precious stones with the right design.
"Our brand aims to deliver a concept that fashion is a form of expression of who they are," said Thu Dieu Ainsworth, chief executive officer of X Jewellery, a label which originated in Denmark, and allows customers to make their own bracelets.