China's StarTimes launches digital TV project in rural Kenya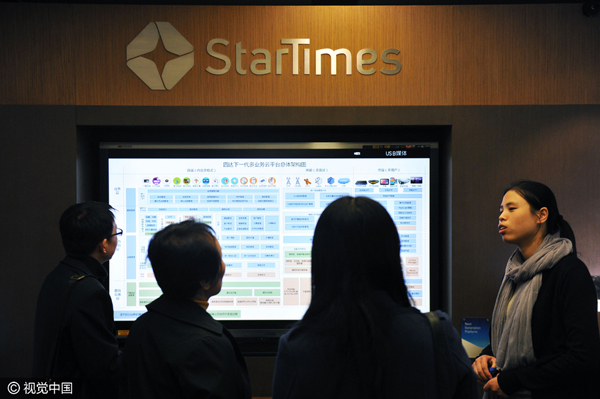 An employee of StarTimes introduces the company's businesses to visitors at its headquarters in Beijing, Nov 3, 2015. [Photo/VCG]
NAIROBI - Chinese media company StarTimes on Wednesday launched a satellite digital television project in Kenya as part of its long-term agenda to bridge rural-urban information gap in the East African nation.
According to StarTimes, the southwestern Kenyan county of Kajiado will pilot the project that has given over 120 households in Saina Village free access to the StarTimes digital television service. The project will seek to benefit over 30 percent of Kenyans living in areas with limited or no access to the digital terrestrial signal.
Sun Zhijun, vice minister of the Publicity Department of the Central Committee of the Communist Party of China, attended the launching ceremony of the project.
Senior executives from StarTimes and Kajiado county officials also witnessed the launch of the project.
In his opening remarks, Sun hailed the project's launch, terming it a significant milestone in cultural diplomacy between the two countries.
"The satellite television program will build a new bridge that will connect Kenya and China in many aspects. It will enable local people to access content that enriches their cultural and spiritual awareness," Sun said.
"Digital broadcasting platforms will expose Chinese culture to Kenyan people," Sun remarked, adding that StarTimes satellite television will also boost Sino-Kenya friendship.
StarTimes has been at the frontline of Kenya's digital broadcasting endeavor since it launched its operations in the east African nation in 2012.
Vice President of StarTimes Group Ltd Guo Ziqi said the Chinese firm had invested significant resources to support Kenya's transition from analogue to digital broadcasting.
She noted that the launch of StarTimes' digital television project for rural Kenya will boost access to high-value content on current affairs and entertainment in villages.
"We are honored to be part of this project that will drive access to StarTimes digital television across rural households in Kenya," said Guo.
Deputy Governor of Kajiado County Paul Ntiati thanked China for the initiative, noting that it will go a long way toward transforming the lives of Kenyan people through increased access to information and entertainment.
"It is our hope that more people will continue to access the same as the project extends to other regions," said Ntiati.