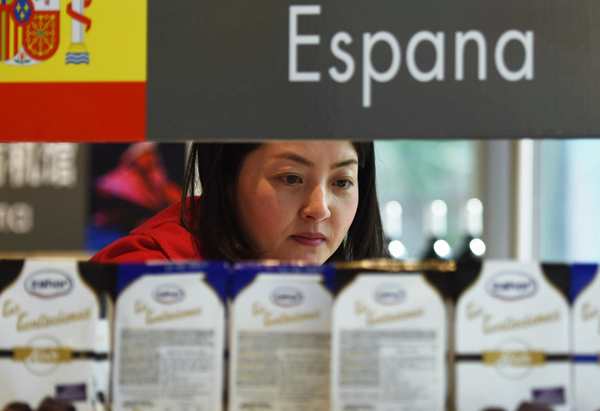 A customer chooses products in a cross-border e-commerce pilot zone in Hangzhou, Zhejiang province. LONG WEI/CHINA DAILY
Stimulated by China's two-child policy, e-commerce platforms and baby-product companies are looking to tap the booming market, which particularly favors brands from the United States and Europe.
"With the development of the maternal and baby market and the policy opportunities, such as the second-child policy, this market will become a blue ocean one for e-commerce platforms," said Shi Jianjun, vice-president of Amazon China.
In an effort to improve the population balance and address issues related to an aging society, in October 2015, the Chinese government allowed families to have two children, ending the one-child policy that had been in effect since 1979.
The Health and Family Planning Commission said 90 million couples qualify for a second child under the new rules, and experts predict around 2.5 million more babies will be born in China every year.
Shi said Amazon China has expanded its selection of baby products from formula and feeding items to diapers or nappies, as well as cleaning, children's nutrition and maternity products.
Maternity and baby products have been key markets for the company, Shi said. Last year, sales of imported maternity and baby products on Amazon.cn increased 200 percent over the previous year, and the category ranked fourth in popularity among Chinese shoppers on the cross-border shopping site Haiwaigou on Amazon.cn.
Haiwaigou, which was launched in 2014, allows Chinese consumers to buy products directly from international brands on Amazon's global sites.
"Compared with the older generation, the young Chinese parents have higher demand for quality, safety and functionality of maternity and baby products. They especially favor international brands," Shi said.
Among the top 10 popular baby brands, five are from the US, with Pampers, Huggies and Wyeth taking the first three places. Other US brands, including Ergobaby, Skip hop and Diono, are among the fastest-growing in China, according to Shi.
The higher demand and increasing purchasing power of Chinese consumers have led to explosive sales growth for Haiwaigou. Baby formula and diapers top the best-sellers, Shi said.
Last year, the market for maternity and baby products was estimated at 2.3 trillion yuan ($346 billion), of which 360 billion yuan was in online transactions, a 98.4 percent increase over the previous year.
That's according to a report on China's maternity and baby-product consumption by the 21st Century Institute of Economy and JD.com Inc.