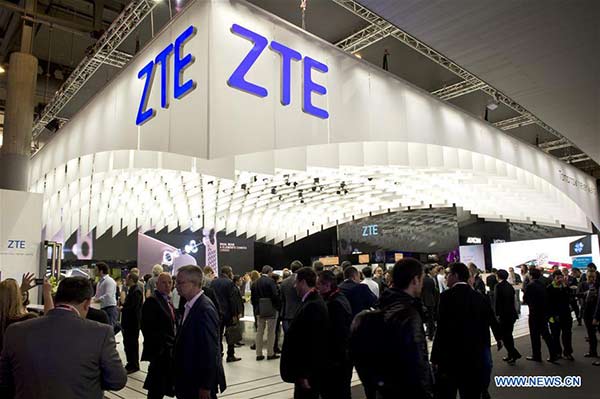 Visitors walk in front of the ZTE stand at the Mobile World Congress 2016 in Barcelona, Spain, Feb 22, 2016. [Photo/Xinhua]
Given the capacity and performance bottlenecks of the existing 4G networks and 5G's commercial use still four years away, ZTE unveiled a solution that aims to eliminate the frustration.
As the first vendor to propose Pre5G technology concepts and series solutions, the company released a white paper named "Pre5G: Building the Bridge to 5G" on Wednesday at the Mobile World Congress (MWC) in Shanghai.
According to Xiang Jiying, ZTE's chief scientist, as the bridge from 4G to 5G, Pre5G focuses on the following three fields: enhanced mobile bandwidth, IoT and cloud networks.
Compared to 4G, Pre5G achieves a six-fold increase in system capacity, a five-fold increase in average bandwidth and 100 times the number of connections per unit area.
"Pre5G networks will begin with IaaS (virtual-network-based function), gradually developed to PaaS (open and programmable network), and finally achieve XaaS (fully open network capability) to support end-to-end 5G sliced networks and service innovation," Xiang said.
According to the company, ZTE Pre5G involves not only the application of key 5G technologies with commercial capabilities (for example, Massive MIMO) on 4G networks to provide 5G user experiences on existing commercial 4G terminals, but also the enhancement of LTE-A Pro technologies in 3GPP architecture.