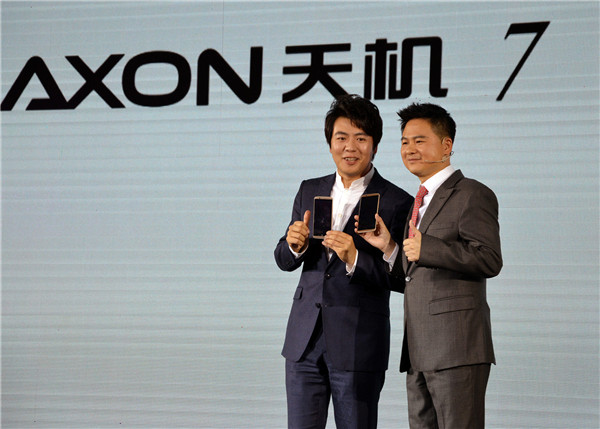 Adam Zeng (right), CEO of ZTE Mobile Devices and Chinese pianist Lang Lang, pose at the launch of ZTE's flagship AXON 7 smartphone in Beijing on Thursday.CHINA DAILY
Smartphone maker hoping to grab greater domestic market share with AXON 7
Chinese smartphone maker ZTE Corp unveiled its high-end flagship AXON 7 smartphone and its first matching VR devices on Thursday. It also plans to continue to expand in international markets, including the United States and Europe.
"The international market accounts for about 70 percent of total revenue and we have performed well in Germany, Spain and Russia, where the sales witnessed a steady growth," said Adam Zeng, CEO of ZTE Mobile Devices.
The domestic market only takes up 30 percent, but ZTE is confident of returning to the top five in domestic market share, Zeng added.
"We aim to sell 60 million smartphones globally this year, and the sales revenue in the domestic market is expected double this year."
ZTE also announced that famous pianist Lang Lang will be brand ambassador to the AXON smartphone series. The device will first be launched in China, and then in the US, Europe and other regions.
The Axon 7 is equipped with a 5.5-inch screen, fingerprint placement, 20-megapixel rear camera and dual-speakers.
Zeng said that it had designed the smartphone especially for music and audio lovers.
At the launch, ZTE unveiled its VR device, and the AXON 7 has the capability to allow a good and immersive VR experience.
It is also among the first companies to support Daydream, Google's platform for high performance mobile VR with the AXON 7.
Yu Yifang, vice-president and general manager in China for ZTE Mobile Devices, told media that ZTE is closely monitoring and researching VR for mobile devices and other hot market areas.
AXON 7 is priced at 3,299 yuan ($503) and can be preordered starting from May 26 via JD.com. Starting June 2, it will be fully available for purchase online and at stores.
Consulting company International Data Corporation said that shipments of smartphones worldwide in the first quarter saw the smallest year-on-year growth on record, with Apple Inc and Samsung Electronics Co Ltd being the leaders in market share, followed by Huawei Technologies Co, Oppo Electronics Corp and vivo Mobile Communication Technology Co Ltd.
James Yan, research director at Counterpoint Technology Market Research, said: "ZTE is a relatively dutiful enterprise, keeps a low profile and sticks to innovation, research and development.
"Huawei pays attention to its device's communication functions and building up brand image, and Xiaomi Corp focuses on users to design and develop its business, I am bullish about ZTE in 2017."
ZTE does very well in the US market and it still has great room for improvement in other overseas markets, Yan added.