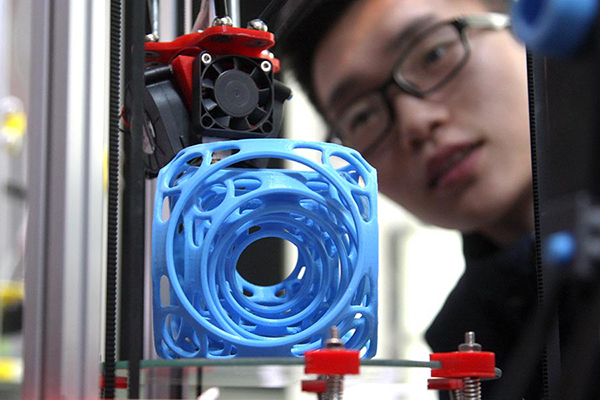 A man looks at a 3D-printed object at the studio in Harbin city, Northeast China's Heilongjiang province, March 30, 2016. [Photo/VCG]
The No 1 US fund with exposure to Chinese stocks is making a big bet on the country's transition to a new economy, boosting holdings of consumer and technology companies.
The Invesco Greater China Equity Fund, which has a total return of 1.54 percent this year through June 16, was the best performer among 47 US-listed global funds tracked by Bloomberg with at least a 25 percent exposure to China. Goldman Sachs Group Inc's Emerging Market Equity Insights Fund ranked second with a 0.94 percent return. These managers sidestepped a 19 percent drop in the Shanghai Composite Index and a 13 percent retreat in the Hang Seng China Enterprises Index.
"We haven't done any magic," Mike Shiao, who manages $2.1 billion as chief investment officer for Asia ex-Japan at Invesco Hong Kong Ltd, told Bloomberg in a phone interview. "The out-performance is really based on our long-term investment approach, rather than a one-year surprise."
Shiao has boosted his holdings of consumer and tech stocks over the past year, data compiled by Bloomberg show. The share of consumption-related companies in the fund jumped to 43 percent from 6.6 percent in the 12 months ended March 2016. He also increased the fund's exposure to technology firms to 29 percent from 12 percent during the period.
"It's the consistent long-term stock selection approach that works," Shiao said. "Our overweight on the consumer-related and IT sectors has been very consistent. We're looking for companies listed in the Chinese mainland, Hong Kong and Taiwan that can benefit from China's growth."
While China is shifting away from traditional manufacturing and heavy industries, relying instead on consumption and technology sectors to fuel growth, investors and analysts haven't been fully convinced by the success of the transition.
The MSCI China Consumer Discretionary Index and the China Consumer Staples Index tumbled 32 percent and 29 percent in the past 12 months. Analysts have cut sales estimates for the consumer industry in the past five years, data compiled by Bloomberg show.
The Invesco fund has reduced its holdings in banking and energy shares as these tend to be less attractive because they are State-owned enterprises, Shiao said.
The top 10 stocks in the fund as of March 31 included China Mobile Ltd, the world's largest wireless carrier, Minth Group Ltd, Tencent Holdings Ltd, China's biggest internet company, Vipshop Holdings Ltd and President Chain Store Corp.
Concern that China's economic slowdown will continue and that companies are taking on too much debt has been weighing on mainland markets this year.
Gross domestic product expanded by 6.9 percent in 2015, the slowest pace in a quarter century.
Shiao is more optimistic. "We believe the Chinese economy is probably more resilient than most people think, at least in the next 3-5 years," he said.
He cited the country's urbanization rate as an example of how much more room the economy has to grow. It's currently about 60 percent, which compares with Japan's in the 1950s, and that of South Korea in the 1970s. Korea has spent 40 years to reach a rate of 80 percent, meaning China still has several decades of strong growth in front of it, he said.
"Of course, there are still some risks if China implements the reforms too slowly," Shiao said, "I'm not saying Chinese economic growth will pick up to reach 7-8 percent again. It will be a very gradual slowing down process though."