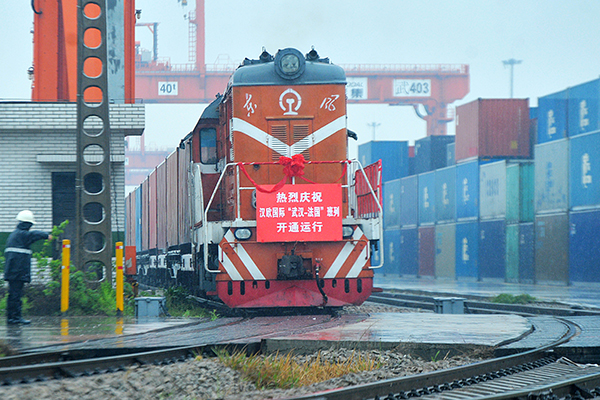 A fully-loaded freight train heads to Lyon, France, from Wuhan, Hubei province. [Photo provided to China Daily]
Big boost to culture, technology and tourism expected to deepen friendly ties
"Look, it's the train from China!" The waiting crowd broke into a loud applause. Standing among them, Tomasz Gorzelak, chief executive of Polish Hatrans Logistics Company, waved at the train cheerfully with a bright smile on his face.
This was a moment captured at a midday Thursday at a railway station in the central Polish city of Lodz, where a freight train carrying dozens of cargo containers just entered the platform after a journey of merely 10 days from Chengdu, capital city of Sichuan province in Southwest China, to Poland.
As soon as the train stopped, logistics workers from the Polish side started to unload the containers, under the coordination of Gorzelak.
"These containers are loaded with mobile phones, tablets, laptops and accessories for electronic devices from China," said he while busy monitoring the crane operations.
These "made in China" goods, according to Gorzelak, will soon be delivered to various regions in Poland and reach clients within hours.
"The current China-Europe railway is just like a 'new Silk Road' linking China with central and eastern European countries," Gorzelak said.
"In ancient times, we had the historic Silk Road, which served as a trade route and an economic corridor linking China and the West for some 2,000 years, and it really played an indelible role in both economic and cultural exchanges between both sides," he explained.
Gorzelak said he believes that with the support of the Belt and Road Initiative, the significance of the China-Europe express trains will go beyond economic values and benefits.
"The trains will also build a bridge for bilateral exchanges on culture, technology and tourism, help further enhance mutual understanding and deepen the friendship between the two peoples," he said.
As one of the major rail routes between China and Europe, the Chengdu-Europe Express Railway Service began operation on April 23, 2013, linking Chengdu with Lodz, an emerging European logistics transit hub. This route was extended in April this year to Kutno, another city in central Poland.
To take full advantage of this direct rail route, Chengdu has proposed a new strategic plan named "Chengdu-Europe Plus," which is in line with the Belt and Road Initiative, according to Chen Zhongwei, director of Chengdu logistics office.
"We aim to become a pivot for logistics between Europe and pan-Asia by expanding international railway networks and establishing a European commodity distribution center," said Chen.
According to the new plan, goods from Europe will be distributed from the city to China's Pearl River Delta, Yangtze River Delta and Bohai Economic Rim, as well as some Southeast Asian countries and regions. Meanwhile, Chinese products transported through the Chengdu-Europe express route will be distributed to European countries from Kutno, Chen explained.
The municipal governments of Chengdu and Lodz have established offices in each other's cities to better coordinate and promote the logistics route, and about 400 cargo trains are expected to take this route in 2016, said Liu Lijuan, commercial counsellor of the Chinese Embassy in Warsaw.
"China's Belt and Road Initiative and European Coordinators agenda proposed by the European Union (EU) complement each other," Liu said, adding that a successful cooperation between the two will provide new export opportunities for Polish products.
"Synergies between China, EU development plans and frequent exchanges of goods and personnel have laid the groundwork for a strong China-Poland partnership," Liu said.