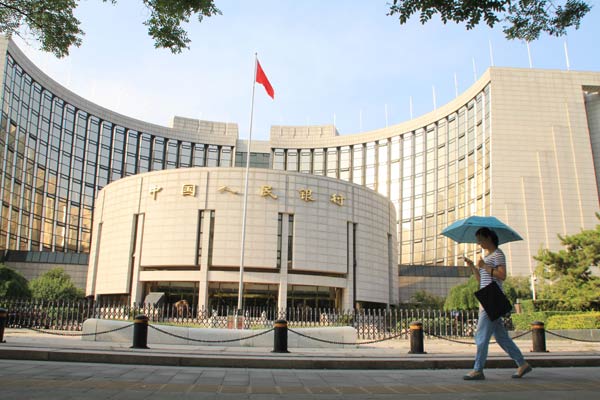 The headquarters of the People's Bank of China in Beijing. [Photo by Shi Yan/China Daily]

Program would allow qualified, good quality international groups to list in the mainland
Chinese regulators are studying whether to allow international companies to float their shares on the mainland's stock market, the People's Bank of China said in its annual report, a move that generated a mixed response from the market and experts on Wednesday.
In its 2015 report, published on its website the previous day, the monetary authority said it would consider launching the Chinese Depositary Receipt scheme as part of the effort to push liberalization of the country's capital market.
The CDR program will allow "qualified and good quality" overseas companies to float Chinese depositary receipts representing their shares in the mainland's stock market and will enable domestic investors to trade stocks of foreign companies.
While the central banks reference to the CDR scheme could signal the regulator's intention to further liberalize the domestic capital market, analysts said that the statement was unlikely to have a substantial impact on the market because the regulator's deliberations could still be at a very early stage.
The discussion, however, sparked fears among investors concerned that a potential increase in the supply of shares from overseas firms, under the scheme, could depress the already weak A-share market. The benchmark Shanghai Composite Index has tumbled 18 percent since the start of the year.
Guo Yanhong, a strategist at Founder Securities Co Ltd, said there was no need to read too much into the central bank's words, as the scheme had long been part of China's efforts to liberalize its capital account.
"It would be hard to understand the regulator's logic if it decided to launch the CDR scheme before many other key reforms, such as the registration-based new share sale mechanism," Guo said.
The launch of a CDR scheme has in fact been discussed by the central bank for many years and Governor Zhou Xiaochuan mentioned it as early as 2002.
There was also discussion a few years ago about launching an international board in the Shanghai Stock Exchange, to allow foreign companies to list shares in the A-share market.
But last year's stock market rout prompted China's regulators to focus on maintaining financial market order and stability rather than pushing bold financial reforms.
The securities regulator has delayed the launch of the registration-based IPO scheme as well as the strategic emerging industries board in the Shanghai Stock Exchange, which will accommodate the return of overseas-listed Chinese companies and serve as a financing channel for the domestic innovative firms.