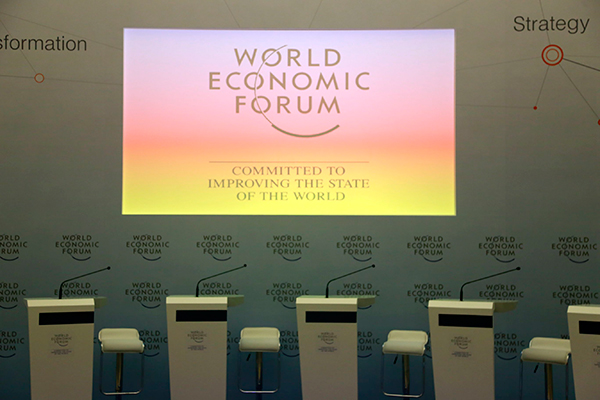 The Annual Meeting of the New Champions 2016, also known as the Summer Davos Forum, will be held at the Meijiang Convention and Exhibition Center in Tianjin between June 26 and 28. [Photo/VCG]
Business leaders are keenly waiting to hear key policymakers' thoughts on their economic strategies, as well as their views on how to better recognize and adjust to the challenges posed by new technologies, in the Summer Davos Forum.
This year's forum, which will be held from Sunday to Tuesday in Tianjin, carries the theme "The Fourth Industrial Revolution and Its Transformational Impact".
That theme will serve as guidance and a view of the future, as well as looking at new expectations for global economic development, according to Tianjin Mayor Huang Xingguo.
Jing Ulrich, managing director and vice-chairwoman of Asia Pacific at JPMorgan Chase & Co, said she hoped policymakers at the forum would take a keen interest in discussing new ideas and measures to resuscitate the global economy, which is still growing at a slow pace.
"Many economies have become too reliant on central banks to generate growth. Effective fiscal policies and supply-side measures need to be used in tandem with monetary stimulus to produce the best possible growth outcome," said Ulrich.
Zhang Shishi, president of New Finance Group, a peer-to-peer lending and wealth management company, said the Chinese government has deepened reforms of the financial regulatory system and has started to standardize and further develop internet-based financing, moves which have played an important role in the country's economic life.
Zhang added that he is hoping for more policy messages from the forum.
Bernhard Kotanko, a partner in global management consulting firm Oliver Wyman, said that in recent years the Summer Davos Forum in China has become a premier platform for global discourse about the transformation of China and its effects on the global economy and society.
Business leaders are also expecting to learn about ways to better recognize and use new technologies in the Forth Industrial Revolution, characterized by the speed of technological innovation and digital transformation of many industries.
Themes and number of participants
2007, Dalian: Shifting Power Equation
Over 1,500 participants from more than 80 economies
2008, Tianjin: The Next Wave of Growth
Over 1,200 participants from more than 80 economies
2009, Dalian: Relaunching Growth
Over 1,000 business leaders from more than 80 economies
2010, Tianjin: Driving Growth Through Sustainability
1,000 participants attended
2011, Dalian: Mastering Quality Growth
More than 1,600 participants from 90 economies
2012, Tianjin: Creating the Future Economy
2,000 participants from 86 economies
2013, Dalian: Meeting the Innovation Imperative
Over 1,600 participants from more than 90 economies
2014, Tianjin: Creating Value Through Innovation
Over 1,900 participants from more than 90 economies
2015, Dalian: Charting a New Course for Growth
Over 1500 participants from more than 90 economies
2016, Tianjin: The Fourth Industrial Revolution and Its Transformational Impact
Over 1,700 participants from more than 90 economies