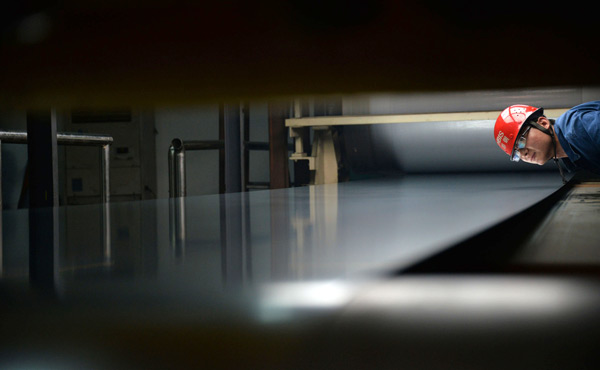 A technician checks steel plates at a steel firm in Handan, Hebei province.[Photho/China Daily]
Experts say prices likely to fall again as idle capacity comes online soon
Large and medium-sized iron and steel companies in China turned a profit in the first four months of this year, according to the China Iron and Steel Association.
Wang Liqun, vice-president of the CISA, said 93 large and medium-sized iron and steel enterprises registered profits of 64 million yuan ($9.66 million) in the first four months.
In the first quarter, however, 36 iron and steel smelters listed on the stock markets registered revenue of 202.1 billion yuan, down 21 percent from the same period last year. The decrease was much lower than the 31 percent year-on-year decrease in the fourth quarter of 2015.
Consolidated gross profit margins of these companies increased from 3.67 percent in the first three months of last year to 7.39 percent in the first quarter of this year.
The growing iron and steel prices in March were a major reason for the profit improvement, said Xu Xiangchun, general manager of mysteel.com, a steel industry information provider.
Xu said that the price rises are attributed to the reduction of capacity, low inventories and the shutdown of some production facilities. However, the overall situation in which supply outstrips demand has not been changed. Therefore, prices will not surge by a large margin.
"The demand for steel is turning better, but it is not a strong rebound," said Xu.
According to zhaogang.com, an online trading and information platform of iron and steel, iron and steel prices have been rising since March. The prices of the third-grade deformed steel bars of Wuhan Echeng Iron & Steel Co Ltd increased from 2,360 yuan per metric ton to 3,020 yuan per ton, an increase of 28 percent.
According to a report by Fitch Ratings in April, the fast increase in steel prices is not sustainable because it depends on growing real estate construction demand. As idle capacity resumes production, supply will keep growing, but demand is unlikely to grow as fast. Therefore, iron and steel prices still face downward pressure in the near future.
The rising prices of iron and steel in March will prompt some suspended production lines to resume production, Xu said.