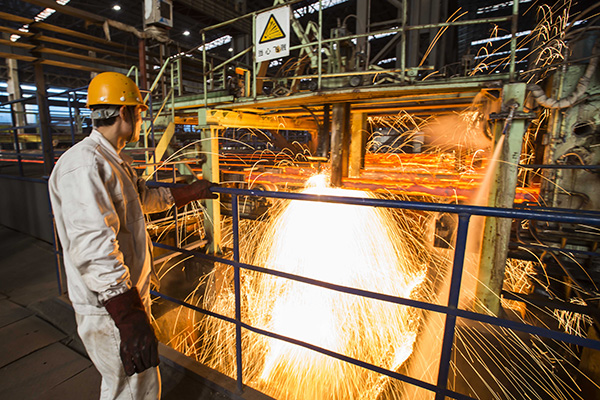 A worker at a steel company in Lianyungang, Jiangsu province, in January 2015. [Photo/China Daily]
Amid unsettling factors like US protectionism, overcapacity and low profits, China's iron and steel industry finds ways to stay afloat
China's iron and steel industry has reached a crossroads after having ridden both the wave of export growth and the boom in domestic housing market for more than two decades.
The industry is facing multiple challenges now. Overcapacity has been a bugbear for a while. Low profit has been a related headache. And angry foreign counterparts, who are struggling to keep their employees in their stations, fill the industry's cup of woes.
Officials said the country will continue to cut overcapacity and readjust the industry's production structure to help both domestic and global steel manufacturers out of the woods despite a surge in prices over the past two months.
Shen Danyang, spokesman for the Ministry of Commerce, said the surge has been caused by the rise in iron ore prices in global markets. Increased activity in the infrastructure sector is also boosting both domestic and global demand for steel products.
His explanation came after international media reported that global steel prices on average had risen from $305 per metric ton earlier this year to $365 in April because China had cut between 150 million tons and 200 million tons of steel and iron production capacity to tackle the issue of overcapacity.
"From an international perspective, along with the gradual recovery of the world economy, the demand for steel increased," said Shen. "Besides, the rising iron-ore prices have also raised the cost of steel products. China's infrastructure projects are apparently supporting the demand for steel from domestic users."
China aims to reduce crude steel production by 100 to 150 million tons over the next five years. It also encourages steel makers to work with downstream steel consumers to promote the use of high-quality steel products in various sectors, from auto and machinery manufacturing to power and offshore engineering equipment.
Eager to stay alive, Liaoning-based Ansteel Group opened a new steel plant last month for high-end steel products used in auto and home appliance manufacturing as the steel maker seeks to improve its product offerings amid oversupply of low-end steel and weak demand.
The new plant, based in Guangzhou, capital of South China's Guangdong province, is part of a joint venture Ansteel formed with Guangzhou Automobile Group Co and ThyssenKrupp AG to tap into steel demand from automakers.
The first stage of the plant cost 1.5 billion yuan ($230 million) and aims for annual production of 450,000 tons of steel plates used in vehicles and high-quality home appliances.
"The Pearl River Delta in South China is an important base for auto and home appliance manufacturing," said Yao Lin, Ansteel's vice-president. "Building a presence in Guangzhou allows us to bring our steel products to many of the country's most important buyers.
"As many domestic steel makers are seeking ways to expand their export channels under current weak global market demand, we need to focus more closely on market demand and localization strategies in China's manufacturing bases such as the Pearl River Delta and the Yangtze River Delta."
Yao said the company has continually invested in a program of training sales specialists at Anshan-based University of Science and Technology Liaoning for three years.
"China is a large exporter of steel and a big importer for special steel used in shipbuilding, weapons, auto and machinery manufacturing. However, the import prices of steel are three times as much as export prices on average," said Zhao Ying, a researcher at the Institute of Industrial Economics of the Chinese Academy of Social Sciences in Beijing.
Sun Jin, director of communications at Wuhan Iron and Steel (Group) Co, one of China's biggest iron producers by capacity, said even though the company announced two months ago that it would cut up to 50,000 jobs, there have been no layoffs or pay cuts yet.
"The company just wants to optimize labor resources, reduce human resource costs and enhance labor productivity. We still give workers a basic salary and social security. They just work somewhere else," he said.
Rather than waiting for the market's hit to drive it out of business, the Wuhan-based steel maker has made its non-steel businesses, including new materials, energy resources, engineering and information technologies, logistics and modern services sectors, the main breadwinners.
In 2013, the operating revenue generated by these new activities accounted for about 30 percent of the group's total, but now they account for more than 50 percent.
"During the planned economy period, we used these businesses to save money. Now, we rely on them to make money. The supporting roles will play leading roles in the foreseeable future to win time for the restructuring of the steel industry," said Sun.
The government said 500,000 workers in the steel sector are expected to lose their jobs as part of the efforts to cut overcapacity. It will provide 100 billion yuan for retraining and to help them find new jobs.
According to the China Iron and Steel Industry Association, 77.8 million metric tons of crude steel capacity has been cut nationally since 2011, with more expected.
"The government this year will speed up efforts to help guide unprofitable mills out of the market," said Zhao Chenxin, spokesman for the National Development and Reform Commission, adding that efforts to cut overcapacity will be implemented as soon as local governments finalize and submit capacity reduction plans to the central government.
In addition, the winds of trade protectionism are still blowing strong from the United States, as the US Commerce Department set final anti-dumping duties of 265.79 percent and anti-subsidy duties of 256.44 percent on imports of cold-rolled flat steel from China on May 17. China's Ministry of Commerce has taken action under the World Trade Organization dispute settlement framework to respond to the US move.
"The steel industry faces global challenges. Resorting to protectionism won't solve the problem," said Li Guanghui, vice-president of the Chinese Academy of International Trade and Economic Cooperation.