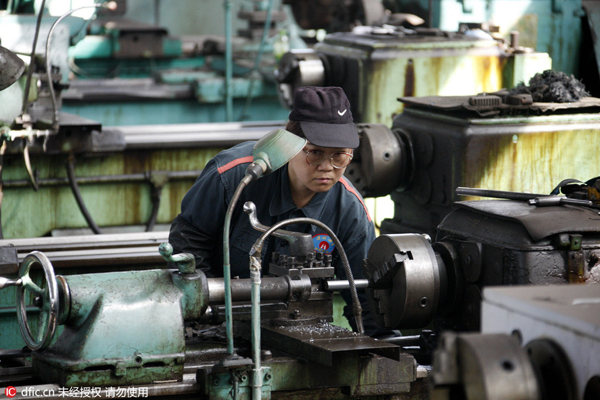 A female Chinese worker processes a steel product at a plant in Huaibei city, East China's Anhui province, April 1, 2016. [Photo/IC]
BEIJING - China's bloated steel industry saw a profit turnaround in March, Xinhua-run newspaper Economic Information Daily reported Friday, but the momentum is unlikely to sustain due to a persistent mismatch between supply and demand.
China's large and medium-sized steel producers reported 2.7 billion yuan ($415.4 million) in profits in March, ending a 15-month losing streak, the paper quoted unnamed authorities as saying.
The unexpected improvement was largely due to recovering steel prices on the back of a pick-up in infrastructure and property projects, as well as elevated speculation in the steel futures market, which analysts said would be unsustainable.
Steel makers have been in deep water over the past few years as a result of shrinking demand and excessive capacity built up during decades of rapid expansion.
"Steel demand only improved slightly. There is no strong rebound," said Xu Xiangchun, an analyst with industry information provider mysteel.com. He predicted steel prices had peaked in April.
China's over-supplied steel sector experienced years of plunging prices and factory shutdowns due to the sluggish economy. However, with encouragement from an upward trend in prices in March, many steel mills are resuming production, challenging government efforts to cut overcapacity in the industry.
At a press conference on Thursday, Zhao Chenxin, spokesperson with the National Development and Reform Commission (NDRC), pointed out that the price surge will only mildly disturb the de-stocking efforts, and the price increase will be short-lived.