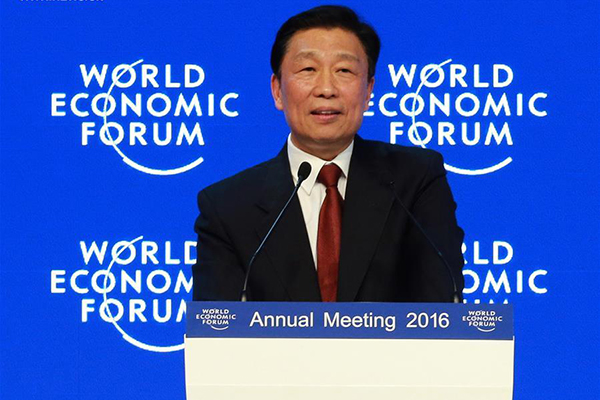 Chinese Vice President Li Yuanchao addresses the 46th World Economic Forum annual meeting in Davos, Switzerland, Jan 21, 2016. [Photo/Xinhua]
DAVOS, Switzerland - Chinese Vice President Li Yuanchao has said that China will work with the rest of the world to meet global challenges and strive for cooperation that benefits all parties.
In a speech delivered at a special session Thursday on the Chinese economy and the G20 summit at the World Economic Forum (WEF) annual meeting, Li Yuanchao said that in the next five years, China will commit itself to developing a more open economy and seeking economic cooperation with other countries as equal partners.
The Chinese vice president said China will continue to advance its Belt and Road Initiative, which will provide countries and regions along the ancient trade routes with economic opportunities, and help developing countries expand infrastructure and advance industrialization.
Voicing confidence in the Chinese economy, Li Yuanchao stressed that the bright prospects of the Chinese economy are not based on blind optimism but on necessary basis, conditions and impetus, citing recent remarks by Chinese Premier Li Keqiang.
Li Keqiang, who attended the Davos forum and delivered a special address last year, did not come to the Swiss ski resort due to a busy schedule at home to manage the world's second largest economy.
Though it is not a routine for the Chinese premier to take part in the Davos forum, Li Keqiang has been a regular guest of its sister forum held in China, called the Summer Davos, which serves as a key platform for him to elaborate on the latest status of the Chinese economy.
Commenting on the G20 summit to be hosted by China in September, Li Yuanchao said the high-level gathering will focus on four fronts in an effort to provide new drivers for global economic development.
He said the G20 needs to shift its policy thinking for economic development toward greater emphasis on improving mid-to-long-term growth potential, identifying priorities for structural reform, and seizing the opportunities in scientific and technological innovation among others.
The G20 needs to remain committed to the reform and improvement of the international financial and monetary system, enhance the effectiveness of global financial institutions and pay more attention to the legitimate aspirations of emerging markets and developing counties, Li Yuanchao said in the speech, entitled Provide New Driving Forces for Innovative Development of the World Economy.
It is important to stay clear-minded about dangers as well as possible opportunities in the current global situation, and that what the world economy needs is "greater openness, inclusiveness, cooperation and win-win results," the vice president said.
Li Yuanchao was here to attend the 46th WEF annual meeting from Wednesday to Friday at the invitation of forum founder and executive chairman Klaus Schwab.
The forum is being held until Saturday under the theme of "Mastering the Fourth Industrial Revolution." More than 40 heads of state and government and senior officials are attending the meetings.