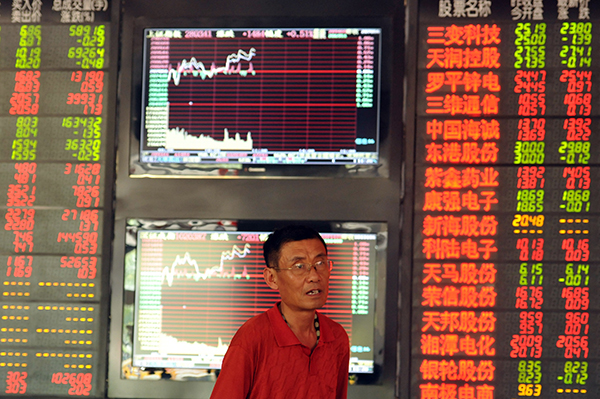 An investor checks stock prices at a securities brokerage in Fuyang, Anhui province. [Lu Qijian/For China Daily]
Chinese stocks swung lower in morning trading on Friday as early results from the UK referendum on European Union membership showed a surprise lead of the "Leave" camp.
The benchmark Shanghai Composite Index was down by 0.22 percent as of 10:00 am at 2885.69 points. The Shenzhen Component Index declined by 0.08 percent at 10247.02 points.
Stocks in other Asia-Pacific markets including Japan, Singapore and Australia also tumbled lower as investors are nervously waiting for the results of vote on UK's EU membership.
The British pound also headed toward its biggest-ever drop, tumbling against all of other major currencies. The British currency fell 4.7 percent to $1.4174 as of 2:15 am London time, according to Bloomberg.