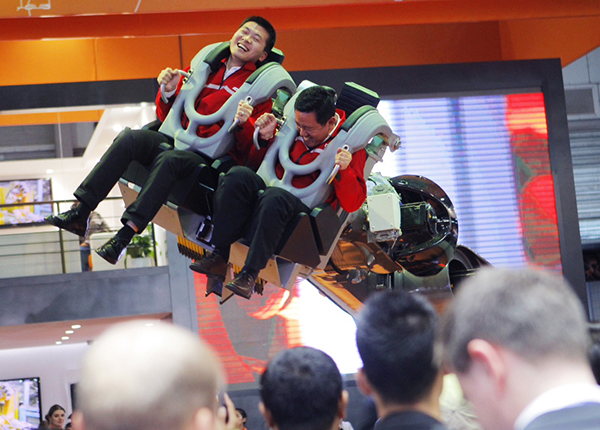 Visitors try Kuka's Robocoaster at an expo in Shanghai. [Photo provided to China Daily]
German corporate takeovers by foreign entities have had a positive impact on the country in terms of investment, according to an executive at Kuka AG, the robotics company targeted by China's Midea Group Co.
"We've had a lot of US companies and Japanese companies doing it and now the Chinese guys are doing it," Stefan Lampa, head of Kuka's robotics unit, said at a trade fair in Munich. "I've never seen any negative effects from those kinds of things, it's always been positive effects."
Lampa's comments, which he said were about foreign investment in general, come following an offer from Midea to build a stake in Augsburg-based Kuka.
The bid, which values the robot maker at 4.6 billion euros ($5.2 billion), has triggered concerns from the German government about the longer-term intentions of Chinese investors. Kuka's executive board accepted the offer on Wednesday.
Midea is offering 115 euros a share, contingent on it being able to increase its stake to at least 30 percent, the company based in Foshan, Guangdong province, said last week.
It has pledged to help Kuka beat a 2020 sales target by broadening the product range to tap the full extent of the Chinese market as well as expanding into household robots.