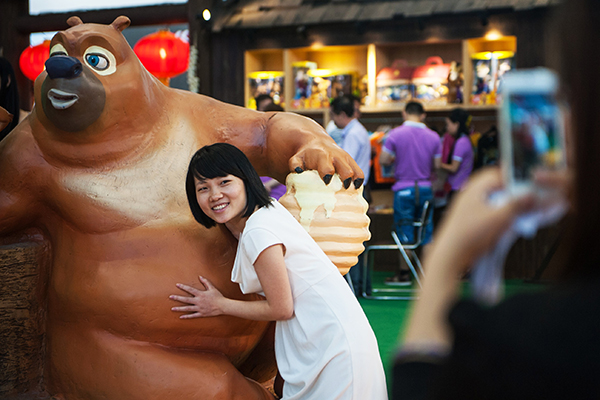 A girl takes a picture with a Boonie Bears character at the China (Shenzhen) International Cultural Industries Fair in Guangdong province in May. [Photo/Xinhua]
Fantawild spearheads rising exports of animation programs and theme parks from the country
"Briar" and "Bramble", the popular bear brothers of the Chinese animation program Boonie Bears, are attracting global attention.
Created by Shenzhen-based Fantawild Holdings Inc, the program has been distributed to more than 60 countries worldwide in different languages.
Eddie Chan, standing vice-director of the Asian Comic and Animation Culture Association, said the Chinese mainland's animation market has grown rapidly in recent years.
Exports hit 830 million yuan in 2012. Overseas licensing of intellectual property like original animation characters has boosted profits. This is a far cry from the days when traditional animation companies used to focus on manufacturing toys based on animation brands rather than creating their own intellectual property.
Shang Linlin, vice-president of Fantawild, said that more and more Chinese animation products are entering the global market. With more than 10 years' experience in cultural technology, Shang can spot a trend when she sees one. Chinese animation production, she said, is changing: the focus is no longer on low price but quality.
Quality also translates to higher price. In Russia, Fantawild's latest Boonie Bears movie sold for a price 40 percent more than the previous version, she said.
One of the reasons is Chinese animations now offer international flavor in terms of creative aspects. This also helps improve their quality and meet the requirements of more broadcasters and platforms.
This will likely make the programs and characters even more popular globally, which, in turn, could necessitate own international distribution channels.
Fantawild has been building its network globally for six years now. That is why, it is able to distribute its programs to more than 100 countries and regions.
The tastes, sensibilities and expectations of international audiences need to be factored in at the story design stage in order to have a satisfactory result in global markets, said Shang. "We emphasize on telling a good story with universal values."
Fantawild's creative process involves foreign experts' ideas, writing, character design and background settings, based on broadcast partners' feedback.
An in-house team of foreign professionals localizes a story by factoring in local cultural customs and sense of humor. The programs are also dubbed into English for an international audience. "International talent is a must. From the creative process, translation and dubbing to music and marketing, we have some foreign professionals bringing more innovation and internationalization to our teams."
Shang said Fantawild puts equal emphasis on localization and internationalization, aiming to create more high-quality programs for the domestic market, and to export more world-class works with Chinese cultural elements and globally accepted values.
Such a strategy has already produced impressive results. In February, Boonie Bears: To The Rescue! topped the box office in the category of animated movies in the second week of its release in Turkey.
Fantawild was acquired in 2001 by electronics major Shenzhen Huaqiang Holdings Ltd. Over the next 15 years, it grew into a leading Chinese producer and exporter of animations.
So far, it has exported around 200,000 minutes of animation products to more than 100 countries and regions, including the United States, Italy, Australia, Brazil, Russia and South Korea.
It has established export channels for animated programs with internationally renowned networks such as Nickelodeon, Disney and Netflix.
Shang said, "In future, Fantawild will expand and deepen distribution channels by visiting more fairs, building connections with distributors and broadcasters worldwide through the internet and industry associations."
It aims to co-produce programs with global themes with foreign groups and expand its presence in international markets. Besides animations, it has exported completed theme park projects to Iran and Ukraine.
She noted the Belt and Road Initiative has helped Fantawild to strengthen cooperation with certain countries, not only for animations but theme parks.
The initiative, proposed by China in 2013, envisages a Silk Road Economic Belt and a 21st Century Maritime Silk Road covering about 4.4 billion people in more than 60 countries and regions in Asia, Africa and Europe.