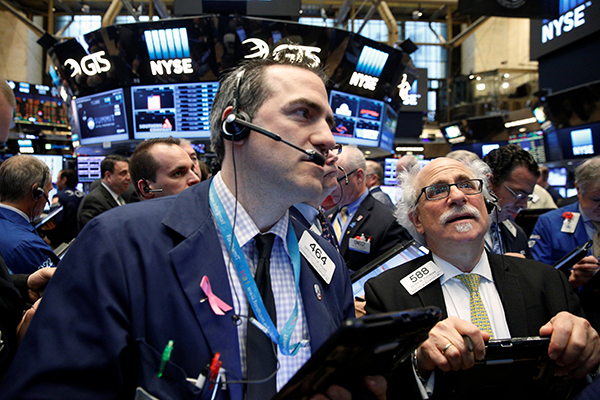 Traders gather on June 13 at the NYSE, which is part of the MSCI Developed Markets Index. Last week, the index provider declined to add A shares in its flagship Emerging Markets Index, for which 23 markets are considered, but said China has made "significant steps" towards global standards. [Photo/Agencies]
They say more important issues are key to investing in Chinese stock market, play down non-inclusion in index
Global investors last week shrugged off the MSCI Inc's decision not to include China's A shares in its benchmark index.
There are more important issues to consider when it comes to investing in the Chinese stock market, they said.
While some investors expressed disappointment after MSCI, the global index compiler, decided not to include the A shares for the third year in a row, many global investors said they would look beyond the MSCI's move as its impact on the market is likely to be symbolic rather than substantial.
Frank Benzimra, an equity analyst at French bank Societe Generale, said in a research note that the key problem for China equities is not that they have not been included in international indices. "The real issues include rising leverage, the onshore yuan's value and the credit-fuelled growth."
Benzimra is underweight on Chinese equities as the economic data in May revealed the weakness in China's private sector investment and raised doubts about the sustainability of a State-led recovery.
Last week, the MSCI Inc said regulatory and capital controls in China still remain concerns to global investors who, it said, would like to see more evidence of Beijing's effort to align the domestic practices with international standards.
Wendy Liu, chief China strategist at Nomura Securities, said the ultimate "pull" of A shares is their investability. "Global investors are on the lookout for assets that can produce positive returns. Ultimately, if listed companies can consistently deliver strong operating results and earnings growth, investors will take notice.
"There is a lack of willingness among offshore investors that we spoke to, to lose money while the Chinese financial authorities learn how to execute (reforms)."
Tom Orlik, a Bloomberg economist, said in a research note that sustained increase in international investors' confidence will require consistent effort on China's thornier policy challenges.
"A stable and predictable regulatory environment, more complete set of capital-market instruments and smoother arrangements for cross-border capital flows would all increase the efficiency of the markets," Orlik said.
Sun Jianbo, chief strategist at China Galaxy Securities Co Ltd, said the MSCI's decision will only have a symbolic rather than substantial impact on the A shares.
"Investors should adopt a cautious approach toward the A shares and pay attention to more important issues, including US interest rate policies and Britain's possible exit from the European Union," Sun said.