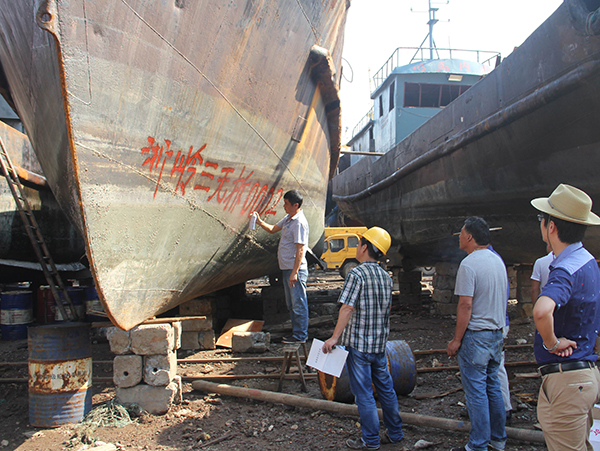 A ship-breaking company's staff workers make marks on a to-be-dismantled ship in Taizhou, Zhejiang province. [Jiang Wenhui/For China Daily]
China's ship-breaking industry is feeling hemmed in by low steel prices, scrap oversupply and green production methods
In 2014, the ship recycling industry was grey; it turned black in 2015; but, this year, it will go blood red.
That's not a dramatic line from a Hollywood take on some imminent industrial tragedy. It's the writing on the wall that workers of Zhoushan's ship-breaking yards in East China's Zhejiang province cannot escape but notice.
The room for profit will continue to be squeezed this year by declining steel prices and the high cost of environment-friendly ship-breaking methods. Yet, pain will come despite favorable policies of the past three years to encourage higher ship-breaking in response to overcapacity and sluggish global trade.
The ship-breaking industry supplies raw materials to infrastructure projects in a number of sectors such as hydropower, housing, bridge and railway construction, particularly in developing countries. The process starts when scrap-yard owners buy ships from owners.
To help China's shipping companies reduce the pressure caused by overcapacity over the past four years, the central government issued a subsidy policy to encourage the nation's shipping companies to reduce the number of aging vessels and replace them with technically advanced vessels in 2013.
Owing to complex global market conditions that continued to pose challenges to domestic shipping, shipbuilding and ship-breaking companies, this policy had been extended in June last year till Dec 31, 2017.
China, therefore, will keep offering cash subsidies of 1,500 yuan per gross metric ton to shipping companies that scrap their vessels before their operational expiry dates.
Ship owners such as China COSCO Shipping Co or Sinotrans & CSC Holdings Co are entitled to receive 50 percent of the cash subsidies upon scrapping their vessels and the other 50 percent when a new replacement vessel is built. The owners of all aging ships scrapped between 2013 and 2017 qualify for subsidies.
Zhang Yongfeng, deputy director of the market research office of the Shanghai International Shipping Institute, said Chinese ship-breaking yards have been adopting new technologies to carry out their work, which involves higher costs for equipment, materials, storage and workers' protective wear.
Compared with China, other major ship-breaking countries such as Turkey, India and Bangladesh are still relying on manual methods and outdated equipment to dismantle ships. Many scrap vessels are even dismantled on beaches.
Zhang suggested the government should consider offering more encouraging policies, such as tax cuts or financial help to those buying steel-cutting equipment or materials, as many ship-recycling companies bear heavy financial burdens in operating their businesses in an environment-friendly manner.
"It was like riding a roller-coaster," said Yang Jianchen, general manager of Zhoushan Hongying Shipbreaking Co. "The period between 2006 and 2013 was good for the industry. The decline in global steel prices including scrap has pushed many ship-breakers in Zhejiang into the red."
Yang said since China's steel products are being shipped to many developing countries such as India, Brazil, South Africa and Turkey at lower prices now compared with previous years, it has pulled down the price of their domestically made steel products. It has also affected scrap prices at the yards.